Broadcast News
19/08/2021
New Features Added To Veset Nimbus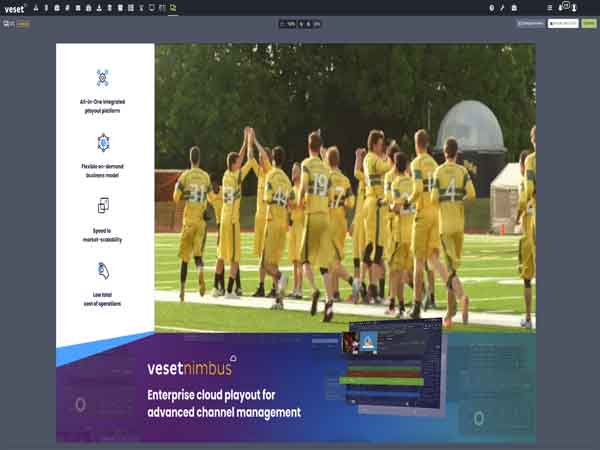 Veset has added a number of new features to its advanced playout solution Veset Nimbus.
This includes support for more output formats, the ability to include more graphics, and live recording support.
Veset Nimbus is an enterprise grade cloud playout solution for advanced channel management. Running as software-as-a-service, it allows for the easy creation and scheduling of new channels in the cloud. Content owners can manage multiple linear channels without the need to invest in hardware, while delivering high quality video streams over IP.
Live recording support means that Nimbus can now record live input sources and ingest these directly to themedia library. Users can record a live feed and schedule it for playback at a future time. Live events can also be delayed to suit different time zones or for +1 channels.
Improved support for graphics includes the ability to schedule video squeezes as part of playback. Squeezes can be used to scale video, both pre-recorded and live, for insertion of graphics such as sponsorships, text scrolls, now/next menus or credits. Users can also now schedule animated graphics, such as animated logos, menus, promos, and advertisements.
Nimbus has now added support for the MainConcept H.264 library. MPEG2TS feeds can now be output with H.264 video encoded via MainConcept allowing for improved support for CBR feeds for broadcast services to satellite and cable headends. Veset has also added support for H.265/HEVC video, which can be used for both UHD and HD channel output.
Veset has extended output support to include distribution via the SRT protocol. This means that channels played out using Nimbus can be delivered via SRT in either listener or caller modes. Veset has also added support for ingest of live feeds delivered via the SRT protocol.
Veset Nimbus already featured support for SCTE-35 markers, both for insertion in channel output as well as listening for triggers in incoming live feeds. This has now been extended to include the ability to output feed with SCTE time signals.
Other enhancements include the ability to normalise audio for loudness compliance in live input feeds on playout and customisable EPG formats to meet FAST and OTT platform specifications including images.
www.veset.tv
Top Related Stories
Click here for the latest broadcast news stories.