Broadcast News
12/08/2021
Xinhua News Agency Deploys TVU One Mobile Transmitters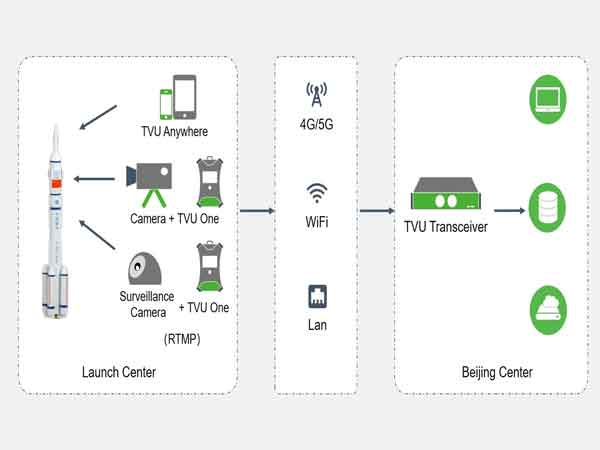 TVU Networks has announced its TVU One mobile transmitters were used by Xinhua News Agency, China's official state-run press agency, to provide real-time footage of the launch of the Shenzhou-12 spacecraft from the Jiuquan Satellite Launch Center (JSLC) in northwestern China on 17 June.
The mission was significant because Shenzhou-12, mounted to a Long March 2F carrier rocket, transported the first three astronauts to the Chinese Space Station (CSS), which is scheduled to be fully operational next year. However, due to security restrictions at the center, only Xinhua and state-owned broadcaster China Central Television (CCTV) were authorized to be on site to cover the launch.
Beyond security restrictions, Xinhua faced strict requirements for operating live video equipment. Some live camera feeds using the RTMP streaming protocol were shared from surveillance cameras at the launch site. The footage was transmitted to the Beijing headquarters of Xinhua through the router function of TVU One. TVU's technical team worked with Xinhua's live broadcast team to create a customized RTMP streaming video transmitting and decoding solution, so the footage could be successfully received and decoded by the TVU Server in Beijing.
While Xinhua had access to the launch site with its own equipment, there were numerous technical issues. Network signal coverage at the JSLC, which is located in a remote desert area in Gansu Province, is not very reliable. Xinhua chose TVU One because its aggregation of multiple data connections delivers a reliable and stable transmission solution.
There was also the very practical issue of avoiding running cables at the launch site, which is a very large, hazardous area. Xinhua's use of TVU One wireless transmitters avoided wired connectivity and allowed the agency to place cameras in various locations across the site. Xinhua also used the TVU Anywhere mobile app from locations around the site to cover the launch, which provided a panoramic shot less than 500 feet from the launch tower.
June's Shenzhou-12 launch was not the first time TVU's solutions have been part of an historic space travel event. Last December, TVU One was used by CCTV to broadcast live coverage of the successful landing of China's Chang'e 5, which returned from the moon with lunar soil samples. The live broadcast took place at the Siziwang Banner landing area in Inner Mongolia.
In May 2020, TVU was also part of a consortium of technology providers that delivered live coverage of the SpaceX Falcon 9 rocket launch, which was the first Crew Dragon spacecraft to carry humans into orbit, as well as the U.S. space agency's first manned space flight in almost a decade. TVU provided its IP-based TVU Grid solution to distribute multiple live video pool feeds of the launch. As a result, participating news organizations were able to provide launch coverage while following social distancing guidelines during the COVID-19 pandemic.
"TVU continues to be a technology partner of several government agencies, contributing pool feeds of space launches and other activities for media outlets when on-site attendance is limited," said Paul Shen, CEO, TVU Networks. "We have had a cooperative relationship with Xinhua for many years, and we appreciate their trust in our ability to find affordable and reliable solutions for their coverage of the historic Shenzhou-12 launch."
www.tvunetworks.com
Top Related Stories
Click here for the latest broadcast news stories.