Broadcast News
31/08/2016
TVU Networks To Showcase Video-Over-IP Solutions And Cloud-Based Workflow Advances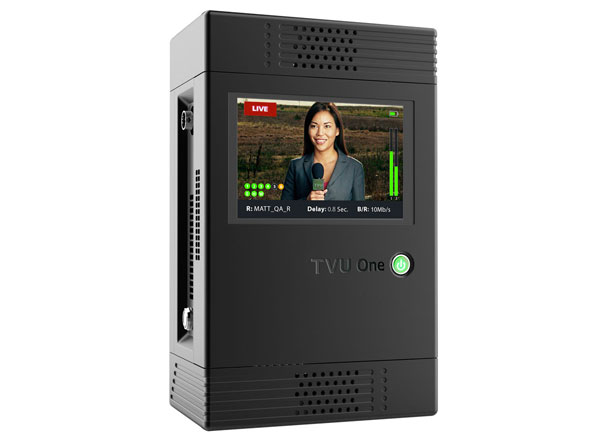 TVU Networks has announced its plans to showcase its full range of transmission, management and distribution solutions at IBC2016.
TVU Networks' solutions for live video acquisition, delivery and streamlining workflow give broadcasters innovative, flexible and reliable tools to acquire live video content from anywhere and distribute it anywhere. As the industry moves toward a cloud-enabled model from a hardware-based, SDI environment, TVU Networks stands poised to meet a receptive crowd this year in Amsterdam.
TVU Networks will also be on hand to talk about their newest IP solution for cost effective live remote video production. By eliminating the need for production vehicles and on-site production crews, TVU allows a broadcaster to leverage their existing studio infrastructure and the Internet to deliver on-location synchronized, multi-camera video coverage.
TVU will also demonstrate its latest Cloud solutions for live video designed to integrate with a broadcaster's existing workflows that provide centralized management and control over their video feeds. All are being introduced for the first time at IBC.
Additional TVU solutions being showcased include:
TVU One
is the company's fifth-generation live mobile IP newsgathering transmitter. It delivers transmission resiliency, performance, picture quality and sub-second latency in an ultra-compact form factor. TVU One features TVU Networks' patented Inverse Statmux Plus (IS+) transmission algorithm, Smart VBR technology, and the TVU.264 video codec. It's available with embedded modems and can transmit simultaneously over multiple mediums, including cellular, microwave, MIMO microwave mesh, Ka-band and Ku-band satellite, BGAN, WiFi, and Ethernet.
TVU Grid
, an IP video distribution, routing and switching system gives broadcasters the ability to seamlessly switch live IP video content and share live streams between remote locations. TVU Grid removes the walls from broadcast stations, empowering users to distribute or collect content with just the click of a button.  
The company's
TVU Anywhere
app turns an iPhone or Android device into a live video transmitter. Designed to turn your portable smart device or laptop instantly into a transmitter, TVU Anywhere enables reporters to instantly capture and transmit footage from anywhere at any time. TVU Anywhere is easy to use – just download the app to a smartphone, tablet or laptop, open the application and start transmitting video. TVU Anywhere uses a 3G/4G/LTE wireless connection and WiFi when available to transmit live video to a TVU Receiver.
TVU MLink
live video uplink transmitter brings cellular 3G/4G/LTE transmission capabilities to satellite and microwave vehicles, vans and trucks. Designed for fixed deployment, MLink is a one RU rack unit that is capable of aggregating the transmission signals from multiple transmission mediums simultaneously, including cellular, satellite, microwave, WiFi and Ethernet.  
TVUMe
is an online video marketplace where broadcasters can sell and trade recorded video content and sell live video streams from a simple interface. Users can buy video content from other broadcasters, freelancers and independent production crews from around the world. Additionally, production crews can use the TVUMe online service to list production services and equipment for future booking, providing broadcasters with access to professional video crews around the globe.
tvunetworks.com
(MH/CD)
Top Related Stories
Click here for the latest broadcast news stories.