Broadcast News
11/08/2021
OOONA Selects Astra Security's Pentest Suite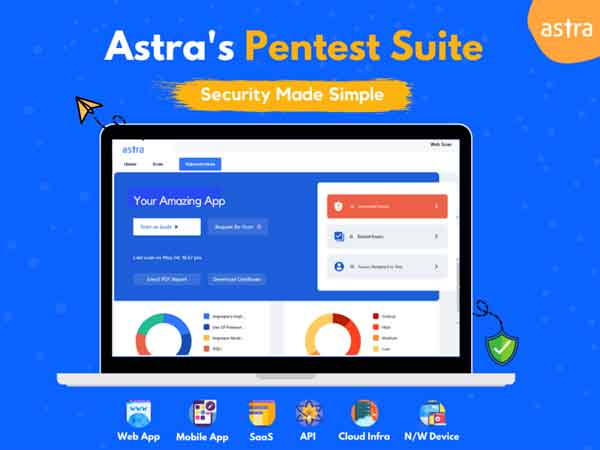 Astra Security has announced that its Pentest Suite has been chosen by OOONA, a globally active developer of professional management and production tools for the media localization industry, to provide continuous online business protection.
Astra's Pentest Suite simplifies the task of vulnerability assessment and management. Client applications are tested against an ever-evolving list of vulnerabilities, Pentest Suite provides data-backed insights which help prioritize fixes. Developers receive tailored guidance on how to repair vulnerabilities plus the ability to collaborate with Astra's security specialists.
"We are pleased to have OOONA as one of the first customers to adopt our continuous security scanner," said Astra Security CTO Ananda Krishna. "The OOONA team's keenness to maintain the highest standards of security makes very good business sense, safeguarding the services it offers its customers around the world. Our Pentest Suite makes application security super simple, continuous and easy to manage for both CXOs and developers."
"Astra's Pentest Suite provides exactly the features we need to maximize the security of the service we provide to our clients," added OOONA CEO Wayne Garb. "We are impressed by their commitment to continuous rather than sporadic testing and they way in which their technology blends with ours."
"Pentests until now were typically a yearly or quarterly occurrence, currently exceeding 2,500," detailed Astra Security CEO Shikhil Sharma. "New vulnerabilities come up almost every day. With our new continuous pentesting and vulnerability management offering, we are making the entire process of vulnerability assessment and penetration testing easy and efficient for businesses, especially those involved in B2B transactions. To maintain transparency, we offer a publicly verifiable certification, which our customers can provide their clients as proof of continuous pentest on their infrastructure. We would like to see security certification adopted more widely. This will save businesses multiple pentests for different partners and ensure their apps are security-tested with every code push."
www.ooona.net
Top Related Stories
Click here for the latest broadcast news stories.