Broadcast News
06/08/2021
Annual PBS Short Film Festival Returns With A Twist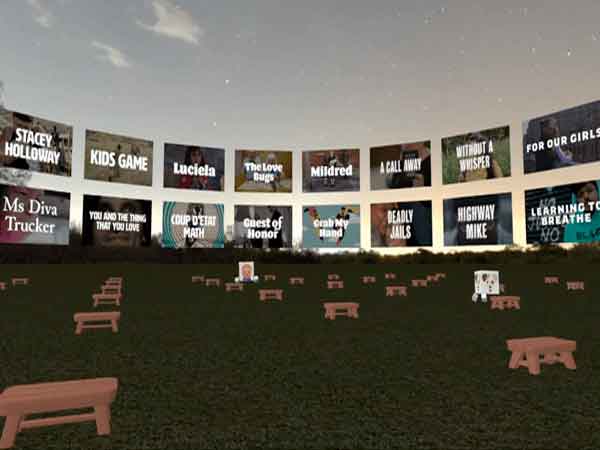 The annual PBS Short Film Festival has returned with a twist.

Running until 31 August, audiences can watch a curated series of stories from independent filmmakers via immersive WebXR beta experience "Screen on the Green". Envisioned by the Digital Innovation Team at PBS, the experience is accessible via compatible headsets, including Oculus Quest, or through a web browser, and comprises 25 short films that play back-to-back. To make the experience possible, the PBS Innovation Team leveraged a host of technology from Amazon Web Services (AWS), including AWS Media Services, Amazon Simple Storage Service (Amazon S3), and Amazon CloudFront.

Part of a multiplatform initiative to increase the reach and visibility of independent filmmakers from across the country, the PBS Film Short Film Festival amplifies the voices of diverse content creators. "="Screen on the Green" gives these filmmakers a new platform to reach a wider audience in a more engaging format. Up to 300 participants can enter the experience at a time and choose from one of two environments—a daytime setting with city scape views or a moonlit outdoor landscape. At the center of each space sits a large-scale outdoor cinema screen, on which all 25 films play consecutively. As participants join, they can see the space populate with avatars and explore hidden Easter eggs, such as film posters or ways to support PBS.

PBS has experimented in the virtual reality (VR) space, but "Screen on the Green" marks the first time that the organization is making the PBS Short Film Festival accessible in VR, a decision that coincided with a shift in audience viewing habits during the global pandemic. In previous years, the festival held in-person screenings in the Washington D.C. area, but last year, large gatherings and events across the country ceased. Even as pandemic-driven restrictions have started to ease, many people remain reluctant to return to large gatherings and theaters. Looking to continue its tradition of showcasing the work of the talented filmmakers via a shared experience, the PBS team recreated the theater experience in VR with help from AWS.

Bringing the experience to life required a simple and efficient way to set up a live linear streaming channel featuring all of the short films that could be scheduled to play in the experience ahead of time. Channel Assembly with AWS Elemental MediaTailor provided Centrella and team with an intuitive, automated, and reliable way to stream multiple videos together, and spin up a channel quickly. For video distribution, the team turned to Amazon S3 and Amazon CloudFront, which provided the scalability required to deliver the experience to as many viewers as needed.

Ensuring a high-quality, low-latency live video stream for hundreds of users in a synchronized fashion proved crucial to creating the sense of community that Centrella and his team envisioned for the experience.

All "Screen on the Green" video content is housed in a proprietary media manager solution, which distributes each MP4 short file to Amazon S3 and Amazon CloudFront. To create the film festival stream, AWS Elemental MediaConvert, a file-based video transcoding service, is used to transform the MP4 files into HLS playlists. Channel Assembly with AWS Elemental MediaTailor uses the HLS playlists to create a linear stream ready for distribution on the experience as a single output. The stream is then ported into the video player supporting the WebXR experience, which lives on a web page hosted from an Amazon S3 bucket.

Looking ahead, the PBS team remains focused on rapidly building and testing ideas. Using AWS services like Amazon S3 and Amazon CloudFront will allow them to spend more time iterating and exploring emerging technology versus infrastructure management.
Top Related Stories
Click here for the latest broadcast news stories.