Broadcast News
02/11/2020
CP Communications Unveils RHS Studios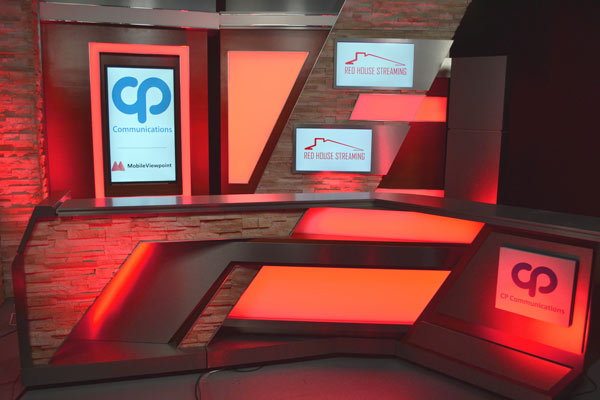 CP Communications has unveiled Red House Streaming (RHS) Studios, a professional studio and network operations center (NOC) that represents the cornerstone of the company's growing in-house production business.
The two adjacent 600-square-foot spaces will emphasize technology from Red House Streaming, a CP Communications brand that focuses exclusively on IP, cloud, and bonded cellular solutions.
Located at CP Communications' headquarters in St. Petersburg, Florida, RHS Studios will serve multiple functions. The studio itself will be the central production hub for clients in the broadcast and professional AV space, while the NOC, staffed with RHS technicians, provides the ability to remotely manage all production and content delivery tasks. Current TV and video production clients RHS streaming technologies and the NOC include The Switch and Venn, Verona Productions, CBS Sports Network, B-Live and Carr-Hughes Productions, among others.
"The Red House Streaming Studios concept is to establish an ecosystem that makes it convenient and quick for clients to launch new productions and immediately begin live streaming," said Kurt Heitmann, CEO, CP Communications. "We have established partnerships and can support at-home productions with professional quality on short notice. We will continue to expand these partnerships to new cities and locations, creating an ecosystem of Red House Streaming solutions in North America and internationally."
Clients can also book RHS Studios to self-produce projects, and use 5,000 square feet of additional open space for larger shoots. CP Communications and RHS will also leverage the studio for two-way customer demos. This capability offers a visually compelling and direct way to demonstrate product innovations, including the RHS family of CamSTREAM content acquisition and streaming solutions.
"This is a full-service, turnkey streaming and recording studio," said Heitmann. "In addition to Red House Streaming and other third-party products, our core broadcast solutions from CP Communications, including wireless cameras and microphones, are available for any production. We can support clients with bigger production needs, including creation of a virtual set with a green screen. Red House Streaming Studios will support everything from corporate training and education videos, to news and talking head segments, to full broadcast-quality TV productions."
Heitmann added that RHS will continue to evolve and expand in other production and business areas. "There is much more on our roadmap," he said. "Right now, we are focused on helping production companies and content producers do their creative work and deliver their messages without having to travel, without production headaches, and at a cost-effective price point."
cpcomms.com
Top Related Stories
Click here for the latest broadcast news stories.