Broadcast News
03/03/2020
Custom Consoles Completes Project For Offices In Geneva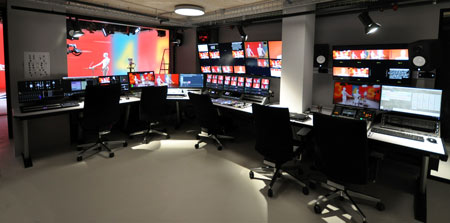 Custom Consoles has completed a twin-desk project for the Geneva offices of a globally active service organisation.
Designed and supplied in partnership with Swiss broadcast systems integrator Visuals, the desks comprise an L-shaped Module-R for use by up to five production gallery operators and a rectangular Module-R Lite configured for two operators.
"The desks form a core part of a new television studio," said Peter Sullivan, Visuals' Broadcast Systems Project Manager. "These will be used for a wide range of productions which can be live streamed or recorded for later viewing.
"Custom Consoles' Module-R and Module-R Lite series have proved a successful choice in earlier projects we have completed for major broadcasters such as RTS and more recently for Switzerland's National Equestrian Institute, allowing robust and operator-friendly desks to be produced from our initial draft designs.
"The L-shaped Module-R desk is a seven-bay straight section combined with a four-bay and twin-bay corner unit situated alongside a soundproofed window into the studio. A camera control unit embedded in the corner desk surface is used to control multiple robotic cameras.
"To the CCU operator's left is a ColourSource console which controls the studio's LED-illuminated cyclorama, a very high spec unit which can display dynamic images as well as preset colour gradients. To the right of the CCU is a seven bay straight section housing a NewTek video production switcher and Yamaha digital audio mixer.
"Four 3U high and and five 2U high equipment pods with sloping front panels are positioned along the rear of the desktop. Eleven computer monitors are attached to the desk via Ergotron adjustable mounting arms. Two 55 inch Panasonic video displays are positioned along right-hand wall, plus a 42 inch display for the sound mixer.
"Facing the opposite wall is a four-bay Module-R Lite desk assigned to graphics. This incorporates four 3U equipment pods and four side by side computer monitors, again on Ergotron mounting arms. Module-R Lite was chosen for this position as the full front to back equipment storage capacity of the standard Module-R was not needed. Custom Consoles also provided an interview desk with an acoustically treated surface designed to minimise noise."
A mix-and-matchable control room furniture system, Custom Consoles' Module-R series allows aesthetically attractive and long-life broadcast control-room furniture to be configured to meet specific shapes and dimensions from a selection of high-quality pods, base sections, 19 inch rack housings, worktops, end-panel modules and legs. Coordinated desktop-level pods are available as single-bay sections with up 10U chassis capacity.
The Module-R product range includes high-quality single-bay, dual-bay and triple-bay desk sections with front or rear access, work surfaces in matching widths, corner desk sections in 90, 45, 30 or 15 degree angles with integral worktops, slide-out keyboard drawers, equipment pods with 3U, 6U or 8U capacity, 19 in storage pedestals and 27U equipment bays.
Custom Consoles' Module-R Lite variant was introduced for use in latest-generation IT-based studios where long-reach worktops are unnecessary. The front to back depth of Module-R Lite is a more compact 95 cm than the 120 cm depth of Module-R.
www.customconsoles.co.uk
Top Related Stories
Click here for the latest broadcast news stories.