Broadcast News
28/02/2020
Primestream To Showcase New Solutions At NAB 2020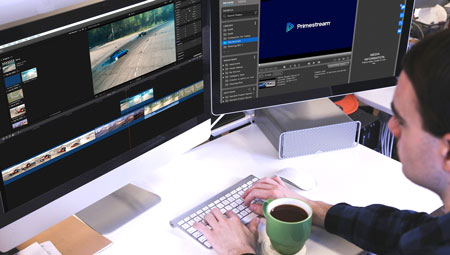 Primestream will showcase an array of new solutions that streamline and simplify the workflows that drive content creation at NAB 2020.
The company will feature solutions that create a seamless bridge between creative tools and Primestream Xchange™, the flagship web-based, enterprise-ready asset management platform that offers single and multisite operations global access to their content and workflows. Primestream also will showcase new tools that improve management of creative projects, make it easier to access assets, and ensure that content remains secure.
At the 2020 NAB Show, Primestream will launch Creative Bridge, a Mac OS application that allows creative teams to take advantage of full roundtrip workflows between creative tools and Primestream Xchange™, the company's powerful flagship next-generation platform that takes the complexity out of asset management and workflow orchestration. With Creative Bridge, users of tools such as Apple's Final Cut Pro X and Avid's ProTools can access and register entire folders of media to and from the MAM while adding valuable metadata and maintaining folder structure. Centralization and simplification of media access throughout creative workflows benefits the entire content production chain.
Showcasing a new collaboration with Blackmagic Design, Primestream will launch the Xchange DaVinci Workflow Panel at the 2020 NAB Show. Natively integrated with DaVinci Resolve via the newly released Blackmagic Workflow Panel SDK, the panel gives DaVinci Resolve users direct access to the content libraries housed in Primestream's asset management platform and supports full roundtrip workflows between DaVinci Resolve and Xchange.
Primestream Visual Watermarking is a new solution that allows for watermarks to be displayed dynamically based on the active user viewing the video. The watermark includes the name of the user, IP address of the system, and a date and time stamp. Dynamic positioning prevents the use of simple masking to remove the watermark, giving the organization a highly effective tool for protecting its valuable content from unauthorized distribution during production on through to distribution.
During the 2020 NAB Show, Primestream will launch a native Newsroom Framework with Octopus NRCS integration. The Newsroom Framework is built directly into the Primestream Workflow Server core, allowing for tight integration with newsroom platforms, delivering greater stability, and supporting quick turnaround for the latest features and workflows with newsroom systems. Organizations can use Newsroom Framework not only to reduce their cost of infrastructure, but also to simplify network connectivity between MAM and Octopus Newsroom and reduce points of failure for mission-critical components.
At the 2020 NAB Show, Primestream will launch the new Project Dashboard, which allows users to view the status of all projects across Xchange™ as they move through the supply chain. Users can interact with projects with easier access, gain visibility, and make intelligent decisions when changes are needed.
www.primestream.com
Top Related Stories
Click here for the latest broadcast news stories.