Broadcast News
24/02/2020
New SMPTE Camera Hybris Patchbay From Bittree Now Available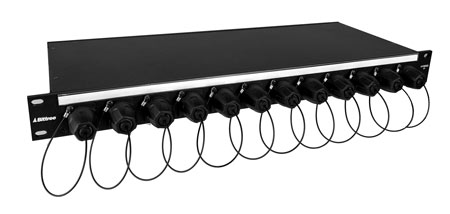 Bittree has announced the immediate availability of its new SMPTE Camera Hybrid Patchbay.
Featuring a newly designed SMPTE-style connector, the space-efficient unit is the company's first hybrid connector patchbay and supports up to 12 camera connections in just 1RU. Bittree will showcase the new patchbay in Booth SU10507 at the 2020 NAB Show, which runs April 19-22 in the Las Vegas Convention Center.
Designed for OB production trucks, multi-studio, and stadium environments, the SMPTE Camera Hybrid Patchbay provides a smaller, more organized patching system for cameras and CCUs. It eliminates the need to send a technician to change I/O connections on the outside of a production truck, simplifying field and color correction setup. Also, it allows for the easy changing of camera positions when moving cameras within central studios or stadiums. A throughput device, the SMPTE Camera Hybrid Patchbay supports all-fiber rich content productions.
Each newly designed low profile patch point on the front panel features a locking, quick-thread hybrid connector with a red alignment indicator and polarizing pin for reliable connectivity. The new patchbay uniquely incorporates expanded beam technology on the front optical patch point connection, eliminating the need for frequent cleaning or adjustment. A convenient dust cap with lanyard is also supplied on all patch points and patch plugs. The fiber rear interface offers a choice of three types of single-mode connections – Dual ST, LC, or SC.
The SMPTE Camera Hybrid Patchbay also features four large contacts to accommodate 2-16 AWG power conductors and 2-24 AWG AUX (data) conductors. Connecting on the rear of the unit to these electrical connections is accomplished with Bittree's standardized E3 connector. The patchcord and internal cabling are SMPTE-311 compliant. For extra resilience to elements, the patch points are IP67 rated.
www.bittree.com
Top Related Stories
Click here for the latest broadcast news stories.