Broadcast News
19/02/2020
Barix's Hardware Devices Certified As End-Points For Syn-Apps Revolution Notification Platform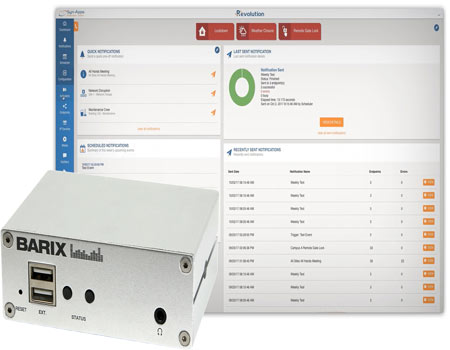 Barix and Syn-Apps LLC have announced that Barix's latest hardware devices have been certified as endpoints for Syn-Apps' Revolution mass notification platform.
Barix will highlight the two companies' seamless integration capabilities in booth 19140 at the upcoming ISC West security industry trade show in Las Vegas from March 17 to 20, 2020.
Syn-Apps Revolution software is designed to transform communication systems into a powerful, unified notification tool used to manage emergency alerts, mass notification, IP paging, and more. Revolution provides the advanced functionality customers need to communicate pertinent information to people located both on- and off-premises more efficiently, safely, and reliably.
Syn-Apps' Certified Endpoint Partner Program expands channel reseller's product portfolios by providing customers with trusted mass notification solutions, complete with plug-and-play interoperability between Syn-Apps software and certified IP endpoints from authorized manufacturers. The program helps facilitate innovation and growth between Syn-Apps and IoT hardware manufacturers while providing mutual customers with true freedom of choice.
Interoperability testing has been successfully completed between Syn-Apps' Revolution software and multiple Barix hardware product lines. Barix's M400 IP audio devices provide reliable, affordable, dedicated endpoints for feeding Revolution notifications to audio amplifiers, while their recently-announced IP Former transforms standard speakers into Syn-Apps compatible IP speakers. Barix's Barionet 400, the latest model in the company's popular series of programmable I/O controllers, provides a robust bridge between the Revolution software and physical interfaces such as distress buttons, fire alarm panels, motion sensors, light switches, door activators and more.
www.barix.com
Top Related Stories
Click here for the latest broadcast news stories.