Broadcast News
14/09/2018
Introducing An Intercom Revolution In 1RU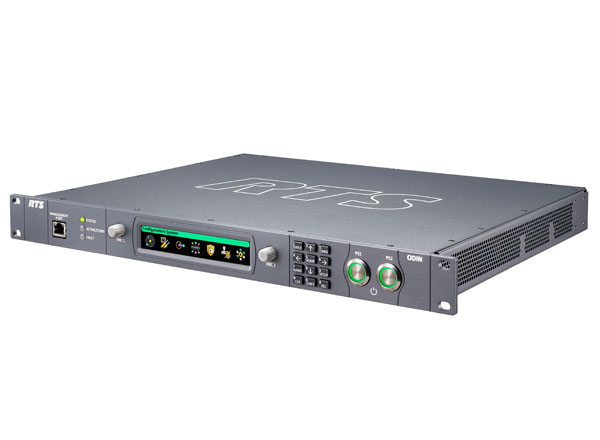 Next-generation intercom matrix provides an unprecedented combination of flexibility, scalability and full-IP performance – all in a compact single rack unit package.
Easy system expansion as your business needs require – up to eight units can be interconnected for a total of 1024 ports.
Offers the broadest interoperability with future, current and legacy RTS products – supports Dante-compatible OMNEO IP technology, and allows seamless connectivity between analog two-wire, four wire and digital devices.
Following its show-stopping NAB debut earlier this year, the RTS ODIN OMNEO digital intercom matrix will make its first appearance at a European exhibition when it arrives at IBC 2018. A major addition to the RTS portfolio, ODIN delivers up to 128 channels of Dante- and AES67-compatible audio over IP in just one rack unit.
ODIN condenses decades of experience and the latest RTS innovations into a compact single rack unit package that offers state-of-the-art IP technology along with analog connectivity. Where previous-generation digital matrix products were significantly larger and more costly to own and operate, ODIN's feature set and form factor are designed to make a professional matrix solution more accessible and easier to use than ever before, opening up the benefits of IP-based communications for wide range of new markets and users of all levels.
In keeping with the RTS principles of forward thinking and backwards compatibility, ODIN can seamlessly integrate into the most sophisticated, large-scale intercom operations, extending the value of the initial investment, while also providing a path for system expansion for smaller users who want to upgrade existing RTS systems to the latest technologies.
With connectors for OMNEO IP technology, analog two-wire and four-wire, ODIN supports IP-based ROAMEO wireless systems and KP-Series keypanels, and, as always, analog RTS legacy keypanels. Dante-enabled OMNEO is standard on RJ-45 connectors or is available using optional optical fiber connectors. Users can flexibly define ports to use any of the available connector types. As a user's capacity needs evolve, a single ODIN can grow from the basic 16 ports to a maximum of 128 ports; up to eight ODIN units can be connected via an optical Inter-Frame Link to create a single matrix with up to 1024 ports. Additional features include redundant power supplies and five cooling fans (two of which are redundant). The unit's energy-efficient design uses less than 50 watts of power, minimising operating costs.
The front panel has a colour graphical user interface based on icons to support the most common setup and configuration tasks. The AZedit and IPedit software applications have been updated to support ODIN for more complex configuration tasks.
Whether the user wants to expand intercom functionality with an IP-capable system at a regional theater or large house of worship, or whether the goal is to start streamlining a larger system's footprint and cost of operation in an OB (Outside Broadcast) van or broadcast control room, ODIN stands apart as the most comprehensive intercom solution RTS has ever made … all in one rack unit.
ODIN combines the functionality of multiple RTS technologies into one future-proof package:
• The capacity of two OMI-64 cards (64-ports each) — up to 128 channels of digital audio over IP in OMNEO format — fully compatible with Dante and AES67
• Connections for up to 16 analog keypanels
• Inter-Frame-Link connectivity for linking multiple frames together
• A powerful master controller
• Built-in connectors for analog two-wire partyline
• Redundant power supply for an extra layer of protection against failure
Additional key features:
• Compact 1RU form factor makes ODIN perfect for OB vans and other applications where space is at a premium
• Built-in Dante-enabled, AES67 / AES70-compatible OMNEO technology makes the transition to IP easy
• Single unit scalable from 16 to 128 ports
• Port expansion via software upgrade – no additional hardware required
• Up to eight units can be optically interconnected for a total of 1024 ports
• Colour display with intuitive icon-based graphical user interface
• Five cooling fans (two of which are redundant)
• Two XLR-connectors for wired partyline in one of three user-selectable formats
• Energy-efficient design – each unit uses less than 50 watts of power for lower cost of ownership.
www.rtsintercoms.com
This article is also available in the September edition of Broadcast Film & Video. Here.
Top Related Stories
Click here for the latest broadcast news stories.