Broadcast News
13/02/2020
Sky Commissions Second Series Of The Heist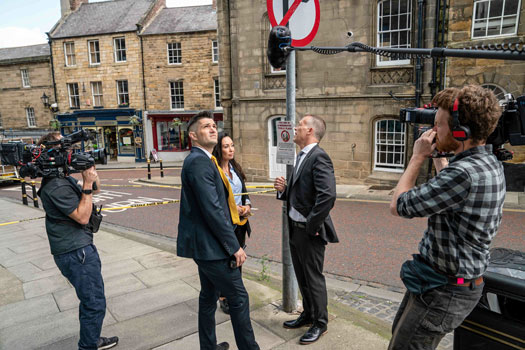 Sky has commissioned a second series of The Heist from leading UK production company Shine TV, with this airing from 06 February on Sky One.

Once again Shine turned to LiveU to create an innovative production gallery, as well capturing onscreen footage, with the company also deploying LiveU to create a flexible nationwide filming and comms system for its series, Hunted and Celebrity Hunted. LiveU's UK partner Garland Partners oversaw technology supply and provided support.

The filming of this year's series of The Heist, which took place in and around Alnwick, Northumberland, UK, differed in two main ways from the first: the use of HEVC via five LU600 units and five LU300s; and a significant increase in the use of LiveU's smartphone app LU-Smart with a 30 per cent growth in footage captured using this technology.

Filming The Heist has unique challenges as a group of thieves – nine members of the public split into four teams of two and one operating alone – takes part in a bank job to steal £1m. If they do this successfully and manage to keep the cash for 20 days, while being pursued by former real-world detectives, then it's theirs to keep. The challenge comes in having the producer/directors – or storytellers – be able to see what the main camera teams are shooting while also being able to see what the thieves are up to in order to tell the best story possible. As well as the low-res feeds from the main cameras, the thieves used mobile phones and the LU-Smart app to send footage back to the low-res production gallery with that footage also stored on the phones for use in the show.

Executive Producer Tom Hutchings at Shine TV, said: "We were excited to see what difference HEVC made and it was simply brilliant. The images were crisp and clear even at 1Mbit/s; we were very impressed. Using LiveU to create a low-res production gallery to allow the storytellers to understand the action as it unfolds, and to be able to communicate easily with all parties, was essential to the filming of this second series and using HEVC was a significant benefit."

Increasing the number of phones used with the LU-Smart app also enhanced the storytelling. As Hutchings explains, it was easy for the thieves to open up the app and film and it meant that producer/directors could keep track of what they were filming and how they were filming it. The thieves could easily be communicated with, reducing the editorial risk while maximising the remote production elements and making sure that the most engaging and dramatic story could be told.

Shine TV also used LiveU very successfully in last year's series 3 of Celebrity Hunted by placing an LU600 HEVC in a helicopter alongside a Cineflex gimble on the front, with the feed from the former fed into the LU600. This was combined with the audio from the hunter's microphone in the helicopter and by using the full bandwidth possible, Shine achieved what Hutchings describes as "amazing picture quality from the air" with HEVC again bringing a real improvement. An audio feed was also sent back to the helicopter creating a nationwide comms system.

Hutchings said: "Having used it like that four times, not once did it drop out, which is truly impressive given the use. As we predicted after using LiveU on the first series of The Heist, their technology has changed the way that we think about key aspects of productions. It really has benefited us in multiple ways and the way that their technology keeps evolving is highly encouraging too. We really believe that this is the future in many ways."

Paul Shepherd, Regional Sales Director with LiveU, said: "It's great to see a customer expand its use of our technology after it has enabled them to work in different, innovative ways to create such ground-breaking programming. It's very pleasing that our implementation of HEVC encoding is also allowing Shine TV to reap such impressive real-world benefits alongside its expanded use of LU-Smart."


Top Related Stories
Click here for the latest broadcast news stories.