Broadcast News
15/10/2021
BBC Studios New Series Deadly Predators Begins Filming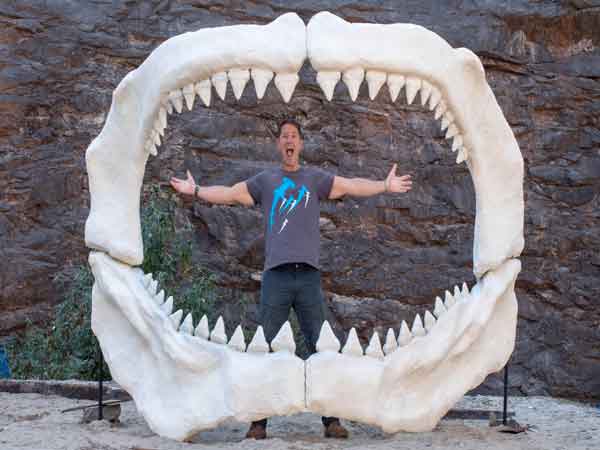 BBC Studios Natural History Unit has announced its new seven-part series, Deadly Predators, has begun filming in the UK.

Presented by BAFTA Award-winning presenter Steve Backshall, Deadly Predators will premiere on CBBC in early 2022. Over the course of the series' seven episodes, Steve will come face to face with some of the biggest, baddest and most bizzare predators on the planet to unlock the secrets of their unique predatory powers.

Through mind-blowing stunts, ground-breaking experiments and innovative CGI, Steve will give viewers a front row seat to some of the most jaw-dropping tricks of the world's deadliest predators. Along the way, he'll also shed light on how some of the world's fiercest creatures are actually in need of our help with Steve looking into what's being done around the world in conservation to save these predators and how we can play our own part to protect them.

Deadly Predators is the latest instalment of the Natural History Unit's Deadly 60 brand portfolio; a brand which continues to go from strength to strength, spanning more than a decade of programming, spin-off shows, international tours and live events. In this latest instalment, Deadly Predators combines real-life encounters with heart-racing stunts and CGI in a show which is committed to BBC Studios Natural History Unit's core mission: entertaining, educating and inspiring young audiences to love and care for the natural world around them.

Deadly Predators will see Steve put the extraordinary power of bat echolocation to the test as he attempts the 'Deadly obstacle course'. He'll also harness amazing predator abilities like thermal imaging and other senses to hunt like a pit viper and a hammerhead shark, showcase the astonishing power of a sperm whale's call with the show's very own air vortex cannon, and come face to face with a grey wolf where he'll challenge its ferocious powers of smell.

With the creative use of CGI, the show will give viewers the chance to look inside predators to learn more about their incredible abilities, bring to life the mind-blowing scale of a colossal squid and demonstrate the hidden power packed behind a mantis shrimp's punch.

Steve Backshall said: "For fourteen years I've been travelling the planet with Deadly 60, bringing the most iconic predators and deadly defenders to the screen. This time we wanted to dive deeper than ever before; plunging beneath the fangs, fur and feathers to find out what really makes Deadly Predators tick. We also find out that even the worlds fiercest predators are under threat, and work out what we can do to save them."
Top Related Stories
Click here for the latest broadcast news stories.