Production News
24/01/2020
BBC Two Announce New Chris Packham And Ella Al-Shamahi Series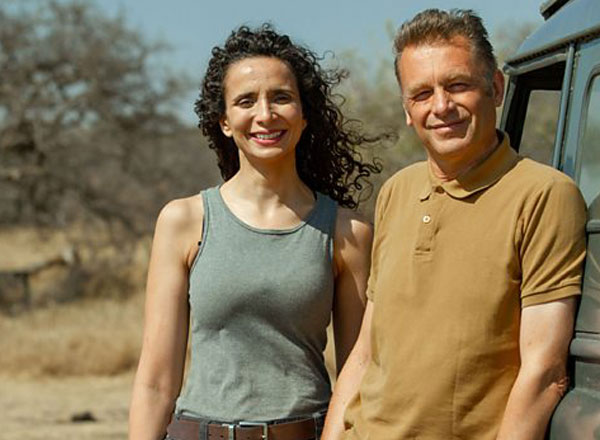 BBC Two have announced the commission of a new Chris Packham and Ella Al-Shamahi series, in which they will create a waterhole in Tanzania, under the working title of Waterhole.
Waterholes are vital to the African ecosystem; but little is known about how they support so much life.
Now BBC Studios Natural History Unit is working with Mwiba Wildlife Reserve in Tanzania, to build the world's first waterhole with a built-in specialist camera rig. With half-submerged and weather-proofed remote cameras filming 24/7, Chris Packham and biologist Ella Al-Shamahi aim to uncover the complex dynamics of the waterhole for the very first time. They're filming across six months to gain unique insights into the lives of some of Africa's most iconic animals, including elephants and lions, and uncover the increasingly important role of water as Africa and its wildlife face the growing impact of climate change.
Patrick Holland, Controller, BBC Two, said: "This promises to be a ground-breaking, audacious series, taking us closer than ever to wildlife and their essential relationship with water. With climatic change making their environment more uncertain than ever, Waterhole will reveal the challenges facing some of Africa's iconic animals."
Jack Bootle, Head of Commissioning, Science and Natural History, added: "Welcome to the secret life of the waterhole, a bustling oasis where elephants, lions, leopards and hundreds of other species meet and compete for water. This ground-breaking series gives scientists the chance to study how waterholes influence animal behaviour like never before, and gives viewers a ringside seat at an astonishing piece of natural theatre."
Roger Webb, Executive Producer, also said: "With remotely operated cameras recording around the clock, we're able to get into the heart of the action as elephants, buffalo, lions, hyenas, leopards and so many other animals are drawn in. It makes for some jaw dropping moments as we witness just how Africa's wildlife shares the one resource they all rely on, water."
Waterhole (w/t), a 3x60' for BBC Two, is made by BBC Studios Natural History Unit, co-produced with PBS. It was commissioned by Patrick Holland, Controller, BBC Two and Jack Bootle, Head of Commissioning, Science and Natural History. The Executive Producer is Roger Webb, the Series Producer is Anwar Mamon, and the Commissioning Editor is Tom Coveney.

Top Related Stories
Click here for the latest broadcast news stories.