Broadcast News
11/12/2019
New FreeStyle Mini Punches Above Its Weight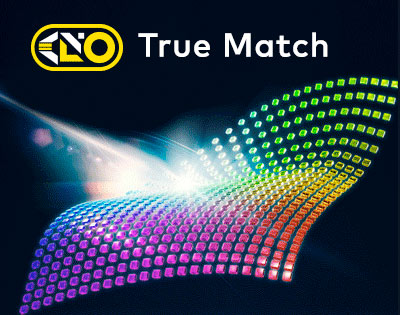 Kino Flo Lighting has unveiled the Mini panel, the company's newest FreeStyle LED system for production lighting.
The compact FreeStyle Mini LED from Kino Flo resembles company's legacy BarFly fluorescent fixtures in size but with the power of advanced white light controls and millions of color options. Weighing in at 1.5 kg and measuring just 38 cm in length, the Mini LED is the subcompact model of the FreeStyle line of location systems (there are 10 models of FreeStyle complete systems in total).
Camera and lighting crews are choosing the power of versatile portability and camera sensor matching Mini's over brute power lights. The slim, compact profile earns the Mini a place next to the camera for close-ups, tucked into the dashboard for moving car shots, and as a preferred source alongside other FreeStyle panels in production designs both small and large.
"It's a home-run for Kino Flo. I like the Mini LED for portability and extremely fast set-ups and easy operation," said Gabriela Fuchs, nature documentary and commercial cinematographer. "While shooting a car commercial recently I used the Mini's for the running shots, powered with batteries... the fact that they are fast, efficient and creative production tools are some of the things my producers really appreciate about the Mini LED's as well."
Mini LED's work remotely from a separate light engine, the FreeStyle 120 Controller (AC/DC), which can run up to two FreeStyle Mini fixtures at a time. In addition, a FreeStyle 140 Controller, with an extension splitter, runs four Mini LEDs. Kino Flo's unique twist-on mounting system with Kino Flo grip handle comes with each Mini system, for easier hand-held shots or for removal when rigging the panels into tight spaces.
The Mini softlight shares the same industry leading TrueMatch® technology as all Kino Flo LEDs, such as:
• The only HD camera sensor matching technology on the market.
• CIE x/y Color Matching.
• Color Space selection—Kino Flo (default) color space, plus rec 709/sRGB, P3 D65, rec 2020, and ESTA E1.54.
• A 5-Color LED pallet anchored by Kino Flo's proprietary TrueMatch® Tungsten (warm white) and Daylight (cool white) emitters.
• Upgradable TrueMatch® firmware.
LUT: Matching Light to Camera Sensors
The FreeStyle Mini LED System comes pre-loaded with camera profiles users can choose from in the LUT mode. The LUT table includes the following HD Cameras:
• Alexa
• Sony Venice
• Panavision DXL
• Panasonic Varicam
"Color matching to the HD camera's sensor is the single greatest advance in LED lighting I've seen and a ground-breaking achievement for Kino Flo," said John Schwartzman, ASC. Schwartzman used the new True Match 4.1 features on The Highwaymen (Netflix) and Last Christmas (November release).
"At the end of the day, cinematographers get paid to make the subject look good; we live and die by the close ups," he said. "Once I selected the Panavision DXL setting from the Celeb and FreeStyle menus, lighting in the camera profile mode took our images to a whole new level."
More makes and models of HD cameras will be added to the camera LUT mode in upcoming firmware releases.
Color Gamut: CIE x/y and Color Space
The CIE xy determines the color displayed by its X and Y space coordinates. For example, with a hand-held, color meter like the Sekonic C-800, users can obtain a CIE xy reading from any light source, on location or in a studio, and input the CIE xy coordinates into the Kino Flo led fixture to match colors closely.
The Color Space defines the RGB color space (white point and RGB primary colors) as a means of matching color points between manufactures. Defining the color space takes the guess work out of post-production workflow and color grading. Included are: Kino Flo's default color space, plus rec 709/sRGB, P3 D65, rec 2020, and ESTA E1.54
5-Color LED Light Engine: >99 PRI
Kino Flo achieves balanced light through advanced color science programming that blends seamlessly broad spectrum white light emitters, one balanced to Tungsten (warm white) and one balanced to natural Daylight (cool white). The resulting spectrum matches closely HD cinema cameras and film stocks, and can be tuned to HD sensors to map onto their spectral sensitivity curve without falling into green or magenta color contamination.
The control exceeds >99 on the Photo Rendering Index (PRI) even when adjusting from the warmer whites at 2400 Kelvin to the cooler whites around 6500 Kelvin. The Red, Green, and Blue emitters further enhance control over color gamut, reaching deeply into the color space with millions of hue and saturation combinations.
Software Upgrades
TrueMatch® firmware inside each Kino Flo LED driver ensures a growing list of feature choices and other enhancements with every update. Kino Flo's most recent update, TrueMatch® 4.1, includes LUTs, CIE x/y and Color Space features (above), plus enhancements to Kino Flo's popular White Menu, Dimming, tunable Kelvin from 2700K to 6500K and Green/Magenta control channels.
A Gels/Hue Menu boasts an extended white light range, 2500K Kelvin to 9900K daylight, 115 cinema gel color presets, plus millions of color combinations in the Hue Angle and Saturation mode.
The RGB Menu can dial in specific red, green and blue values and call up colors remotely via a DMX control center. An FX (effects) Menu generates lighting effects such as Candle, Fire, TV, Police, Lightning, Paparazzi, Pulse and Scroll.
www.kinoflo.com/Products%20Button/LED/TrueMatch_Firmware/TrueMatch_Firmware.html
Top Related Stories
Click here for the latest broadcast news stories.