Broadcast News
15/11/2019
LundHalsey Installs Customised And Modular Control Room Furniture For Dorna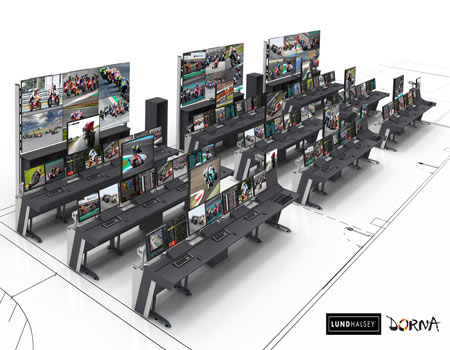 Having worked in the control room solutions industry for over 36 years, along with offering multiple fully customisable products and services, we at LundHalsey are always looking towards the next exciting project, and our recent work with Dorna was no exception.
Dorna's passion for motorsports turned into sports management, marketing and a media company in 1988, and are now the exclusive commercial and TV rights holder for some of the largest motorcycle racing championships in the world, including the FIM Road Racing World Championship Grand Prix and the MOTUL FIM Superbike World Championship. Needless to say, we were quick to jump at the opportunity to work with Dorna on such a prestigious project after first meeting Pep Ribas, Dorna's Managing Engineer, in Amsterdam during the IBC exhibition.
This exhibition was "a great opportunity to see the quality and high functionality of their products, plus discuss how they could help using their internal design service," Pep Ribas states.
We put together some preliminary technical drawings based on their project parameters and started the process of designing their broadcasting control room. "Detailed project engagement and management" are some of our highest priorities when working with any company, no matter the size or industry.
Throughout the stages of concept designs and 3D rendering, one of our Barcelona based Sales Agent's, Samuel Jiménez, visited the Dorna site on numerous occasions to assure that the design and implementation process went off without a hitch. This also gave us the chance to visualise how the interior space could best be used - not only for monitors, console desks and chairs but also for the space in which their employees will move and work.
But, before installing the designs that we had created, we wanted to ensure that Dorna was completely happy with their new control room solutions. "We were invited to a factory acceptance test at their premises in the UK. It was during this visit that we had the chance to see our consoles before delivery."
This trip allowed Dorna to see the furniture up close and personal, instead of in 3D renderings, "the few minor changes that we requested were dealt with and actioned on the day". Guaranteeing that our clients are happy with their final product designs before installation is a vital step in our process, and it ensured that Dorna got exactly what they came to us for, a bespoke control room solution, "I am pleased to say that we were delighted with the result and approved acceptance for delivery within a few hours of inspection."
Adjustable e-Type monitor arms, the award-winning e-Type II console, and our cutting-edge control room chairs were just some of the pieces that were used within the Dorna fitout. Every product that was used was customised to suit their individual needs. And, as an essential part of every broadcast control room, the video wall was configured with our top of the range monitor stacks for easy everyday usage.
Our involvement in the Dorna control room refit didn't end with interior design, ensuring that there was an accessible yet secure area for their network and data storage system, was key to the entire control room working at optimum capacity.
After fully installing their customised and modular control room furniture, we were happy with the response that we got from the company and their staff, "I am now looking forward to working with LundHalsey again on our next project knowing that this part of the process will be managed effectively and efficiently." And we too look forward to the next Dorna project.
www.lundhalsey.com
This article is also available on
BFV online
Top Related Stories
Click here for the latest broadcast news stories.