Broadcast News
08/11/2019
City Of Irvine Chooses Ross Video To Help Overhaul City Council Chamber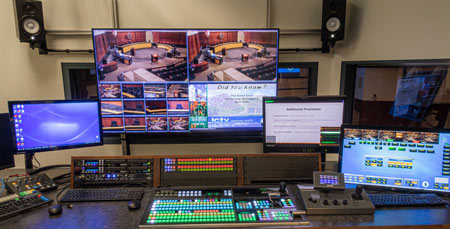 The City of Irvine in California recently decided to overhaul its City Council chamber and improve its production facilities in order to boost the amount of video content that is produced for local cable television and the City's own web site.
As part of the project, Ross Video partners Triton Technology Solutions, Inc. were tasked with designing a new system and AVI-SPL were asked to provide system integration and commissioning.
According to Tom Macduff, Public Information Officer with the City of Irvine, the choice of Ross as a technology partner was relatively straightforward given previous experience. "We've been using a Ross Vision production switcher very successfully since 2007 and we haven't missed a production in more than ten years thanks to the reliability of the product and the support we've had from Ross Video and their partners. When we first decided to expand our video content beyond council meetings to include things like interviews and training videos, our priorities were flexibility, scalability and reliability. Ultimately, we're looking to move beyond our main control room (that is used for public meeting productions) to add additional studios and another control room. That's potentially a sizable investment and we need to have absolute confidence in the brands we partner with given the mission critical nature of our content."
In order to meet the brief, Brian Rose, VP of Engineering with Triton Technology Solutions, created an integrated Ross solution that kept the requirement for flexibility top of mind. Brian and his team put together an impressive package that included the Carbonite Black production switcher, XPression graphics and Ross openGear infrastructure. The results have been very warmly received. "From router and switcher operation to automation and remote control of CG and other functions via the DashBoard control system, producing content has become easier and less time consuming, allowing for more dynamic production," noted Tom Macduff. "We now have a system that is reliable, easy to use, scalable, and will serve us for many years to come. If you've never worked with Ross before, don't hesitate to add Ross Video to your system!" Brian Rose is also very quick to highlight the quality of Ross Video's technical expertise. "Ross's technical support is second to none in the industry. From simple operational questions to troubleshooting more complex issues or understanding how to manage more advanced or automated operations, Ross staff can help via phone, email, or remote desktop access. The support engineers are extremely friendly and have an impressive depth of production experience."
www.rossvideo.com
Top Related Stories
Click here for the latest broadcast news stories.