Broadcast News
05/11/2019
[Future of Film] Summit 2019 Announces Brand/Create Pitch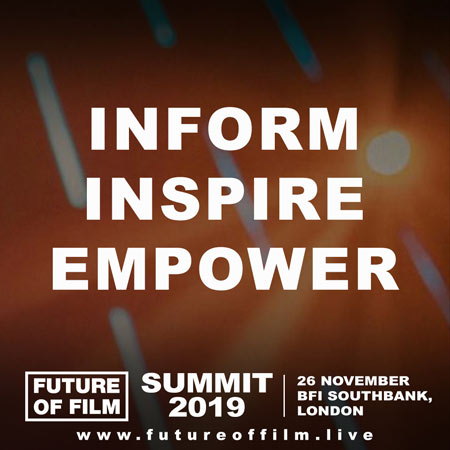 [Future of Film] Summit 2019 has announced Brand/Create Pitch which is a unique opportunity for filmmakers and storytellers to pitch their story ideas (across film and any medium) to a panel of leading brand-funding experts who will provide immediate live feedback.
Brand/Create Pitch is part of [Future of Film] Summit's wider focus to empower storytellers to unlock the opportunities of brand funded filmmaking and will take place during the Summit at BFI Southbank on 26th November 2019.
As well as the opportunity to hone their project with immediate expert feedback, the winning team will have the unique opportunity to take their project to the next level through exclusive 1-2-1 development and brand-funding mentoring with Ad Age's Production Company of the Year, UNIT9.
The winner will also receive a year's subscription to Adobe Creative Cloud All Apps (worth £600) and all entrants shortlisted for the Pitch will also receive a complimentary ticket to the Summit (worth £179).
The Brief
The theme of this year's Pitch is Sustainability. We're looking to the future, and with that is the need to be conscious of how we can continue to grow and change in a rapidly moving space.
What does sustainability mean in different contexts and how can we persuade people and businesses to integrate this principle into their lives and the wider world?
What are the implications of sustainability, perhaps the challenges too and, crucially, why is sustainability something undisputedly essential and utterly urgent to adopt without delay?
We're looking for projects with a budget of between £40k-£50k, which look directly or indirectly to the theme. It is up to the storyteller how this is interpreted, and this should be explained in their application.
In addition, we are seeking ideas that demonstrate innovation and originality either in terms of the proposed content, execution and/or distribution approach. Most of all, we want something with the potential to cut through in today's increasingly noisy media landscape.
The Project
We want projects that work across any visual medium. This can be:
• A Film of any length
• Short Form Episodic (e.g. Quibi)
• A VR or Immersive project
• A Game
The project must be able to be completed with a budget of between £40-50k. It can be a project that is already in pre-production, or it can be a brand new idea.
The Panel
• Yifei Chai, Innovation Architect, UNIT9
• Gavin Humphries, Managing Editor, Nowness
• Jon Alwen, Head of Non-Fiction TV, Pulse Films
More panelists are to be confirmed.
The Pitch
Selected storytellers will have six minutes each to convince the panel why their project should be selected as the winner. The Pitch will take place in front of the Summit audience and can include the use of visual aids on the big screen.
The Prize
Winners will receive exclusive 1-2-1 mentoring about their project, career and the opportunity to work with brands with a senior executive at UNIT9.
In addition, the Winner will receive a year's subscription to Adobe Creative Cloud All Apps (worth £600).
All Shortlisted Applicants will receive a complimentary Delegate Ticket to attend (value £179) and all Applicants will receive a 33% discount on their Delegate Ticket.
To Apply
In order to apply, you will need to send over the following to
pitch@futureoffilm.live
.
Synopsis (200 words mx)
• How your project relates to the theme of Sustainability (100 words max)
• A Mood Board
• A Storyteller's Statement (this can be a director, writer, maker - 100 words max)
• Proposed Distribution Strategy / Channels
• Names and bios of the core team (you can apply as a group, although only person will be able to attend the live pitch).
The deadline is 17 November at midnight.
Top Related Stories
Click here for the latest broadcast news stories.