Broadcast News
15/10/2019
SCISYS Media Solutions To Showcase Solutions At NAB New York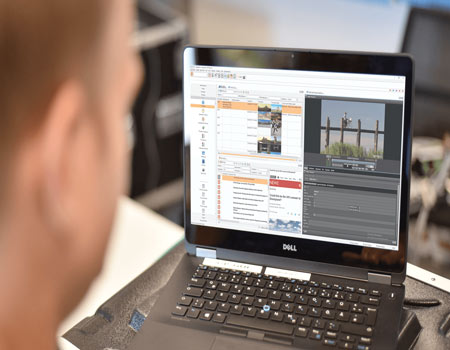 SCISYS Media Solutions will be showcasing a portfolio of solutions designed for a new dimension of cross-media storytelling for TV newsrooms and radio production at NAB Show New York on 16 – 17 October,
As TV meets radio and merges with online and social, SCISYS Media Solutions is now positioned at the heart of solving challenges for modern broadcasters and radio stations. Exhibiting at the booth of partner Arvato Systems (N646), NAB Show New York visitors will have the opportunity to experience the very latest developments in the leading Newsroom Computer System, OpenMedia INFINITY, and radio production and playout solution dira!
At NAB Show New York, SCISYS Media Solutions will demonstrate its flagship Newsroom Computer System, OpenMedia INFINITY, providing maximum speed and scalability for handling complex workflows in broadcast news production – from wire search, scripting, and rundown management through to playout control.
SCISYS Media Solutions also demonstrates its a modern and unified web-based user interface for journalists and editorial teams of any size, NewsBoard. With metadata-driven workflows at its core, the dashboard solution helps to organise the story production process, from ideas to distribution. With a customisable and open widget architecture, NewsBoard will help newsrooms keep up with continuous workflow changes and challenges for the years to come.
Introduced at IBC2019 the ready-to-use NRCS, OpenMedia NOW leverage all of SCISYS's two decades of expertise in newsroom systems to deliver a preconfigured newsroom computer system for TV and digital/online media, with updates designed to enhance cost-efficiency and easy deployment.
SCISYS Media Solutions will also be showcasing the powerful dira! product family, covering the entire production workflow required for media management in radio journalism. dira! solutions are already used by leading radio broadcasters around the world and offer a toolset to enhance broadcast production and the exchange of material and programs, through to broadcast scheduling, to actual onair playout, post production and archiving.
SCISYS Media Solutions also welcomes a new visual radio solution to its portfolio; Viura, a software tool for intelligent camera control in the radio studio for editors and presenters. Based on BlackMagic and DHD hardware, Viura allows all components to be completed with both dira! and third party solutions for playout and production.
Additionally, SCISYS Media Solutions has also joined the Avid Alliance Partner Program, making the latest extension to the OpenMedia NRCS a unified integration with the Avid MediaCentral | Cloud UX platform. This unison will simplify even the most complex workflows in broadcast news production and enabling editorial teams to complete any newsroom project with ease.
One of the lighthouse accounts in North America is the Canadian broadcaster Corus Entertainment, which has invested heavily in the OpenMedia platform. Corus and its Global News division are already beginning to experience the true story centric collaborative workflow approach of the OpenMedia planning system, rolling out to all of its stations and locations across Canada as the central tool for its newsroom planning and rundown management.
Deployment of the OpenMedia planning system within the Corus network has already started at facilities throughout Canada, with a full national deployment planned for completion in 2020.
www.scisys.co.uk
Top Related Stories
Click here for the latest broadcast news stories.