Production News
12/09/2019
Ruptly Breaks New Ground With Dyatlov Pass Documentary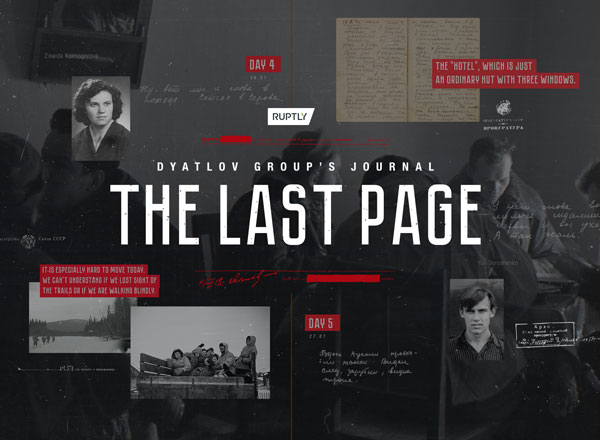 A ground-breaking new documentary project has been launched centring on the tragic Dyatlov Pass incident, where nine hikers mysteriously died on a trek in Russia.
The incident occurred in 1959 in the Ural Mountains when nine students set off on a hike led by Igor Dyatlov. 60 years on and the cause of their deaths is unsolved, with only trace evidence remaining: the diary they kept, the photos they took during their expedition, and the unexplained and gruesome circumstances in which their bodies were found.
Award-winning video news agency Ruptly has introduced its multi-platform project which allows content creators to investigate the mystery via exclusive content and recreate their own vision of what took place on that fateful trip. The platform combines rarely-seen archival materials, including the group's original expedition diary entries, with present-day footage and interviews, providing an exclusive window on unexplained events as they unfolded.
Dinara Toktosunova, Head of Ruptly, commented: "This project breaks new ground for documentaries thanks to immersive storytelling, liberating users to dive deep into the story. We hope that such an interactive approach, framed in modern terms, will inspire everyone from big-name broadcasters to independent content creators to engage with their own creative vision of past events."  
'Dyatlov's Group Journal: The Last Page' sees Ruptly showcase exclusive, independently-produced content spread across Instagram, an extended documentary-style feature and a dedicated webspace with video footage available to users in a variety of formats.
For those wanting to create their own unique documentary content to share with audiences, Ruptly is offering raw access to all original footage, images and archive materials collated, providing filmmakers, historians, and educators alike with the tools for their own storytelling.
For those seeking captivating ready-to-share content, the project is also accessible as a 'close-up' extended feature, produced by Ruptly, on the mystery of Dyatlov's group.  
"We visualised Instagram as a contemporary reimagining of the group's diary, including features on each of the hikers, so you get to know all the participants. While on the website you follow key investigative moments," said Vadim Maximov, Ruptly's Creative Director.
'Dyatlov's Group Journal: The Last Page' is available
here
.
Top Related Stories
Click here for the latest broadcast news stories.