Broadcast News
10/09/2019
ITV Studios Acquires Over 20 Sony HDC-3500 System Camera Chains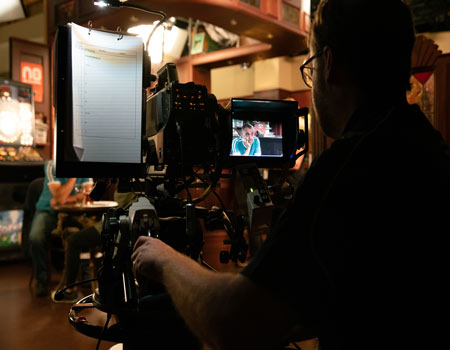 ITV Studios has acquired 21 Sony HDC-3500 system camera chains supplied by broadcast and film industry equipment provider, Top-Teks.
The 2/3-inch 4K CMOS sensor portable system cameras will be used to shoot 'Coronation Street', ITV's soap that has broadcast for almost 60 years. The cameras were selected as part of ITV Studios' latest camera refresh aimed towards future-proofing production by offering greater flexibility and picture quality.
Offering a new benchmark in creative flexibility, the HDC-3500 system camera, unveiled at IBC 2018, brings a new level of image quality, portability and creative flexibility. Thanks to offering the world's first 2/3-inch 4K CMOS sensor with global shutter technology, the production team is future-proofed with the capacity to shoot in premium 4K/HD/HDR picture quality.
"We knew we wanted to trial the HDC-3500 system cameras and after a number of on-set testing days, all of our expectations were met especially regarding the look and feel of the cameras. We were particularly impressed by the HDC-3500's Viewfinder Detail function helping our camera operators to quickly and precisely focus in any shooting situation while on-set. All 21 HDC-3500 system cameras are enabling us to deliver the narrative of 'Coronation Street' in life-like detail to viewers at home - building on our heritage of almost 60 years of quality programme-making," commented Gary Westmoreland, Director of Technical Operations, ITV Studios North.
The system camera additionally offers wider workflow options by supporting Sony SR Live for HDR workflow, allowing for simultaneous 4K HDR and HD SDR production by a single team - helping to reduce hardware and personnel costs for multi-format production down the line. The HDC-3500 system cameras are enabling ITV Studios to anticipate tomorrow's production needs while maintaining full compatibility with their current workflows and system hardware.
The HDC-3500 system camera is ideally positioned to help broadcasters and media companies broaden their creative possibilities, whilst also offering unprecedented operational flexibility and reliability in any shooting situation.
Norbert Paquet, Head of Product Management at Sony Professional Solutions Europe explained: "Today's broadcasters want robust solutions that can both support their current requirements and grow with them as their production needs evolve. Our latest system cameras enable both and are fast proving themselves as the de facto choice for broadcasters seeking to future-proof and maximise ROI. Investing in the HDC-3500 will not only accelerate ITV Studios' ability to deliver high-profile productions like 'Coronation Street' in incredible colour, contrast and detail, but open the opportunity for more 4K, UHD and HDR live productions in the future."
www.pro.sony.eu
Top Related Stories
Click here for the latest broadcast news stories.