Broadcast News
30/08/2019
Ross Video Continues To Support Phase 3 Productions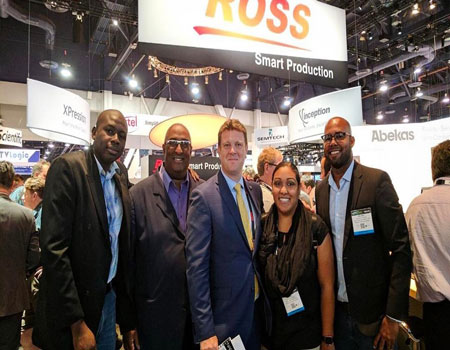 Phase 3 Productions in Kingston, Jamaica, is celebrating its 35th anniversary, and Ross Video has played an important role in the company's success and growth.
"We've had a long relationship with Ross, and that's because the company makes great gear and arguably offers the best technical support and customer service in the industry," CEO and Creative Director of Phase 3, Delano Forbes, explained. "We've obviously got lots of choices in terms of who we work with, but Ross has an approach to business that's very similar to our own, and that's a big advantage."
Recently Phase 3 placed its largest ever order with Ross Video. This enabled Phase 3 to offer 4K UHD/HDR workflows for the first time. "Our first 4K project was Reggae Sumfest, the largest music festival in Jamaica and the Caribbean," said Delano Forbes. "We used the Carbonite production switcher and the Ultrix routing/AV processing solution, and both performed perfectly in a 12G workflow. While our livestream of the festival was in 1080p, clips from each act were uploaded to the client's YouTube channel in 4K." The high production value stream generated tens of millions of impressions and generated very positive feedback from the online viewers as well as the promoters and sponsors of the festival. Phase 3 not only provided multicamera coverage but also LED screens for IMAG around the venue.
Phase 3 currently manages multiple OB systems that feature Ross production switchers, open Gear and routing products, but an increasingly busy calendar of events – including the recent CONCACAF® soccer Gold Cup tournament in the US – means that a new 4K truck (featuring Carbonite Ultra and Ultrix) is already being built. "I think we will have to put a Ross logo on the side of this truck because Ross is such an important part of the production solutions we offer," noted Forbes. "I'm not sure where Phase 3 will be in another 35 years, but hope we will still be successful, giving back to our community and creating great productions with Ross!"
As well as being one of the Caribbean's foremost live production houses, Phase 3 Productions is also a company with a strong social conscience. The company supports a wide variety of charitable causes in Jamaica. The company's founder, Dr. Marcia Forbes, was awarded an 'Order of Distinction (Commander Class)' by Jamaica's Governor General in 2017 for her "sterling contribution to Multimedia Television Production, Public Service and Volunteerism". "Phase 3 has always operated on the basis of 'purpose beyond profit' and that's a core part of our DNA", notes Dr. Forbes. "Yes, we are a business and of course we want to grow and succeed, but we have a wider duty to our community and to society; that guides our decisions and we've always tried to work with like-minded people. Ross Video is a great business partner."
www.rossvideo.com
Top Related Stories
Click here for the latest broadcast news stories.