Broadcast News
19/08/2019
FOR-A Provides Mixed SDI And IP Solutions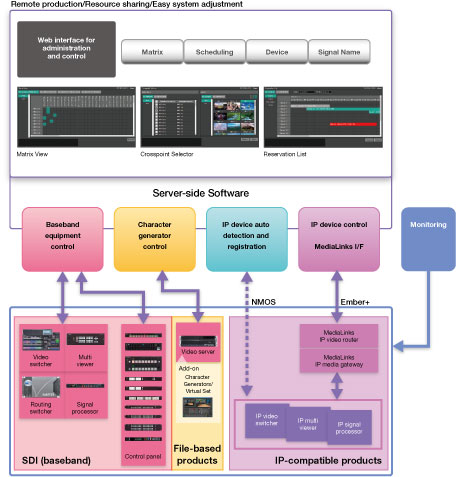 FOR-A a provider of broadcast systems integration as well as a broad range of broadcast and ProAV products is seeing within its customer base a requirement to provide mixed SDI and IP solutions.
It is clear, each technology has their own advantages depending on the customers production business requirements.
Baseband technology is still required in several phases of broadcasting, in particular live sports production, the industry has been gradually moving from traditional SDI systems to IP-based systems. This trend has driven demand for hybrid IP/SDI environment control and system integration. FOR-A believes 12G-SDI technology currently offers right choice for sports and other 4K productions, it offers reliability, ease of operation and industry standard interfacing.
By incorporating IP, users can share and consolidate studio resources, such as character generators, video servers or signal processors. Greater efficiencies can be achieved, through equipment resource allocation required for a given control room or individual broadcast line environment. Freely controlled networked equipment also enables system builds with remote production in mind. Overall, the use of IP provides greater scalability, flexibility, remote accessibility and cost effectiveness for backbone-system construction.
One crucial product to bridge IP and baseband environments is FOR-A's USF-10IP IP Gateway series. The USF-10IP is a dual 10 GbE video-over-IP module series that offers high-quality conversion of any standard IP video format, including: SMPTE ST2022-6/7/8, SMPTE ST2110 as well as other IP formats. The unit also acts as a translator between SDI baseband and IP systems, and is compatible with 4K UHD (2SI/SQD) and multi-format input/output video.
Available modules offered in this series include: the USF-10IP, which converts between IP formats; the USF-10IPSDI6-FS, which comes standard with one 12G-SDI input and one output, 2SI/SQD conversion, and offers simultaneous conversion of up to six inputs/outputs selectable with six streams; and the USF-10IPSDI12-FS module, which also comes standard with one 12G-SDI input and one output, as well as 2SI/SQD conversion, and offers simultaneous conversion of up to six inputs and six outputs with 12 streams.
FOR-A's media orchestration platform SOM-100, delivers seamless interoperability between baseband and IP equipment and traffic management. With an integrated baseband/IP control and monitoring system, is designed for use in a mixed SDI/IP environment. SDI and IP routing switchers are managed as one routing switcher in a virtual group. The SOM-100 offers seamless operation of a variety of video equipment, monitored centrally from its GUI interface. It can execute routing system control and process control in parallel with traditional user panels, so that it supports collective operational changes of multiple pieces of equipment and offers ex-actuatable time reservation. The system also features a web interface for easy access from multiple computers.
FOR-A also offers various remote production systems based on the IP transmission technology in conjunction with Media Links' IP Media Gateway and Fujitsu's IP-HE950 H.265/HEVC real-time video encoders. Media Links MDP 3020 gateway transfers not only video but also audio, control data, 2 x JPEG 2000 or uncompressed video ports, 2 x 1GbE ports and 2 x 10GbE trunk lines with hitless protection. The Fujitsu IP-HE950E/D can transfer either 1x UHD or 4 x 2K video streams with an HEVC codec. Bandwidth is reduced with HEVC enabling the use of more cameras at a venue. Such a flexible workflow environment using IP technology centralizes production resources.
www.for-a.com
Top Related Stories
Click here for the latest broadcast news stories.