Production News
15/08/2019
Insight TV Announces Details Of Streetkings In Jail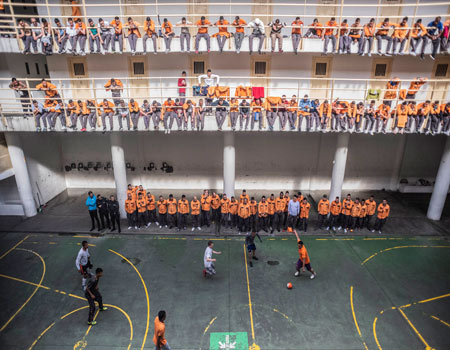 Insight TV has announced details of its new series Streetkings in Jail, a co-production with VICE Studios, the production company from VICE.
Featuring 4 x 44 minute episodes, Streetkings in Jail will launch on Insight TV on 10 September.
Football stars from all over the world hone their skills in playgrounds, parks and on the streets from an early age. As well as building world-class players, these environments are a backdrop for those whose lives travel in a very different direction. In Streetkings in Jail, Insight TV puts the spotlight on those that ended up in prison, spending the majority of their life in a concrete cell.
In each episode Edward Van Gils, the Godfather of street football, will join forces with a football legend and visit a jail in the country they're from, looking for talented players who took a wrong turn and ended up in the very worst position. Featuring Ruud Gullit (Netherlands), Gilberto Silva (Brazil), Juan Pablo Angel (Colombia) and Kevin Kuranyi (Germany), van Gils explores what puts some street kings on the world stage and others behind bars They will show the benefits street football can bring to the lives of inmates and how they can draw on the positive experiences that sport delivers to stay out of trouble in the future. As well as training them for a match, Edward and the legends will find out about the inmates backgrounds, what led to the moment that changed their lives forever and what they will do if and when they are released from prison.
Frank le Mair, Executive Producer, Insight TV, said: "What triggered me to commission this series is the micro cosmos a little square around the corner of your house can be. You might find kids playing football that end up making it on a national team and you might find kids that will make bad choices in life, sometimes even more talented, but still end up making mistake after mistake and never get the life they could have had. This new series not only shows how difficult life can become by making one wrong choice, but how football can create positivity and unite people no matter what their background or circumstance. It's the perfect fit for Insight TV; combining strong personal stories with powerful visuals in high quality."
www.insight.tv
Top Related Stories
Click here for the latest broadcast news stories.