Broadcast News
01/08/2019
GatesAir Adds New Application To Its Intraplex Ascent Transport Platform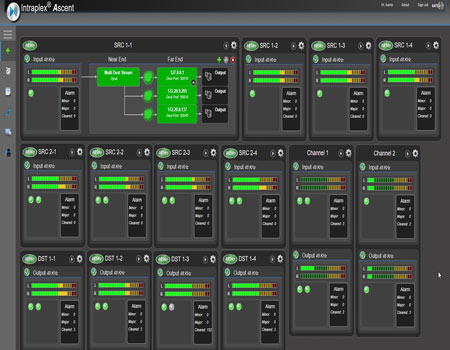 GatesAir has added a new application to its Intraplex Ascent transport platform to support reliable and secure video over IP transport alongside audio.
The new Ascent SRT Gateway, to be unveiled at IBC2019 (September 13-17, RAI Amsterdam), will especially be useful for broadcasters managing contributed video and/or audio content for point-to-multipoint distribution.
The application's video support also brings Ascent into the television market, with an exceptional value proposition for national broadcasters feeding many destinations. Ascent will now provide transparent support of any real-time, IP-based broadcast video protocol, with applicability to ATSC 3.0 and DVB-T/T2.
GatesAir introduced Intraplex Ascent as a next-gen Audio over IP platform at the 2019 NAB Show in April. Intraplex Ascent represents an evolution in broadcast and IT convergence, and is GatesAir's first Intraplex system to live on a COTS x86 server. Ascent provides broadcasters with a highly scalable, redundant and cloud-based transport platform for multichannel contribution and distribution. Designed for centralized control and maximum interconnectivity, Ascent is compliant with the AES67 standard, today's leading AoIP networking solutions, and most Intraplex Audio over IP codecs.
Ascent offers two key differentiating factors for IP transport: an ability to manage many Secure Reliable Transport (SRT) streams on a centralized platform, and its integration of GatesAir's unique Dynamic Stream Splicing (DSS) software. The latter diversifies SRT data across redundant networks, and adds protection against packet losses and network failures.
At IBC2019, GatesAir will demonstrate how the Ascent SRT Gateway supports reliable and encrypted transport of video content both in point-to-point and point-to-multipoint configurations. The addition of DSS software will support duplication of SRT streams with video and embedded audio over separate network paths, leveraging a single stream-splicing buffer for hitless protection against errors and failures.
www.gatesair.com
Top Related Stories
Click here for the latest broadcast news stories.