Broadcast News
15/03/2019
In The Frame: Cartoni Set To Unveil New Tech At NAB 2019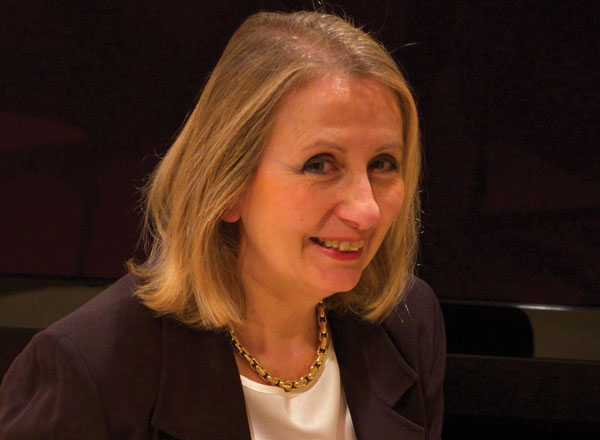 Broadcast Film & Video speaks to the President and CEO of Cartoni Elisabetta Cartoni.
Internationally recognised in the industry as a pre-eminent brand for camera support equipment, Cartoni prides itself on its engineering ability, innovation and leading technology.
This year the firm will be exhibiting an entire range of products designed for studio and OB production at NAB 2019, as well as launching the new Steering P70 which is is the most competitively priced crabbing pedestal in its class.
Hi. Thanks so much for taking the time to speak to Broadcast Film & Video. Cartoni was established in 1935. Can you tell me some background about the firm?
Cartoni is one of the oldest and most storied camera supports companies in the world. We are a family-owned company that was established in Rome, Italy nearly 85 years ago by my grandfather, Renato Cartoni. He was the chief operator at at Istituto Luce's Cinecittà Studios in Rome and needed a better camera support for the large cameras that they were using. As a mechanical engineer, he took it upon himself to design a solution he knew would work and as a result, developed the first tripod with a gyro head. My father, Guido, followed in my grandfather's footsteps and also began developing tripods for smaller cameras. Many people don't realize that in the 60s, my father developed unique camera supports for Arri and for many years, Arri would only showcase their products with our heads & tripods.
We've continued in my father's legacy in developing innovative solutions for content creators. We have over 30 patents on the various technologies around camera supports, which is the most for any camera support manufacturer.
The company offers one of the widest ranges of camera support equipment including Fluid Camera Supports and tripods? Can you tell me more about the products the firm currently provides?
We have a huge range of products that we designed for the different ways that cameras are used whether it's in broadcast, film or independent content creators. Our goal is to give maximum freedom to the operator, whether they are using a GoPro or a large sports camera. Maximum freedom also means creating innovative solutions. In the broadcast industry, this means designing high–end pedestals or a head that can track a camera's movement.
For the film industry, we created innovative solutions like the award-winning Lambda system, the Dutch head or the Total Dutch, the only head on the market that can move the camera in 360 degrees around a fixed point. The new Total Dutch is an excellent solution for commercials, concerts, SFX and as an example, even fashion work, where you shoot the catwalk horizontally, follow a model as she enters the scene and then rotates 90° for a vertical shot for a close-up view of the garment. The Total Dutch is also a great tool for cinema to show a great 360-degree picture.
What about robotics?
Robotics are becoming more and more popular as there is a constant need for remote shots. We have a remote-controlled head, the e-Rem 25, but our specialty is our line of e-Cube heads, products designed with encoders that can be used to track the movement of the camera. The e-Cube is excellent for anyone who is working with VR, augmented reality or graphics and special effects. The other use for this line is to act as a slave head linked to another head and is an excellent alternative to using a joystick or hand wheels.
How does the firm remain at the top in terms of its competitors?
There are three reasons why Cartoni continues to be used globally. They are innovation, service, and affordability. At Cartoni, we are continually innovating. We meet with camera operators in broadcast studios, film sets, sporting events, and independent content creators. This is really where our innovation comes from – understanding our end-users needs.
At the same time, we believe that the greatest proof that you stand behind your innovation is through service. As a result, we offer a best-in-class 5-year warranty on most of our products. This is really unheard of in our industry where other manufacturers will provide at most two years. By taking great care of our customers, we get the opportunity to learn where we can make improvements.
Finally, another differentiator for us is that we make premium products at a much more affordable price for the value versus our competitors.
What will Cartoni be exhibiting at NAB this year and how important are trade shows to the company?
We are really excited about NAB 2019. Trade shows are still a valuable way to meet with different end-users. This year, we will be showcasing an entire range of products designed for studio and OB production. For example, we are launching the new Steering P70 which is the most competitively priced single stage crabbing pedestal which supports payloads up to 75kg (165 lbs). The Steering P70 offers completely smooth movement, heavy-duty wheels for ultra-smooth steering and is affordable. This makes it an excellent choice for economic studios, OB production and more.
We are also launching an exciting contest around our SDS Tripod systems. The SDS Tripod allows camera operators to set up and fold their tripod in an instant. It's available in four options including 75 and 100mm as well as carbon-fiber or aluminum. It supports payloads up to 60kg (132 lbs), so it is excellent for anyone from a videographer to an ENG camera operator. We are launching a global contest to celebrate our SDS Tripod and are inviting Cartoni users from around the world to send us their in-use photos or videos.
We also have two more products geared for the studio and OB production that we will announce as we get closer to NAB.
What's next for Cartoni?
We believe that the future of this industry will be geared around robotics, and that's where Cartoni will begin to focus. We have already had great success in this area with our e-Cube and hope to see more innovation in this area.
This article is also available in the March 2019 edition of Broadcast Film & Video. Available here.
Top Related Stories
Click here for the latest broadcast news stories.