Broadcast News
18/02/2019
Bexel Expands Graphics Offering To Include Ross Video's XPression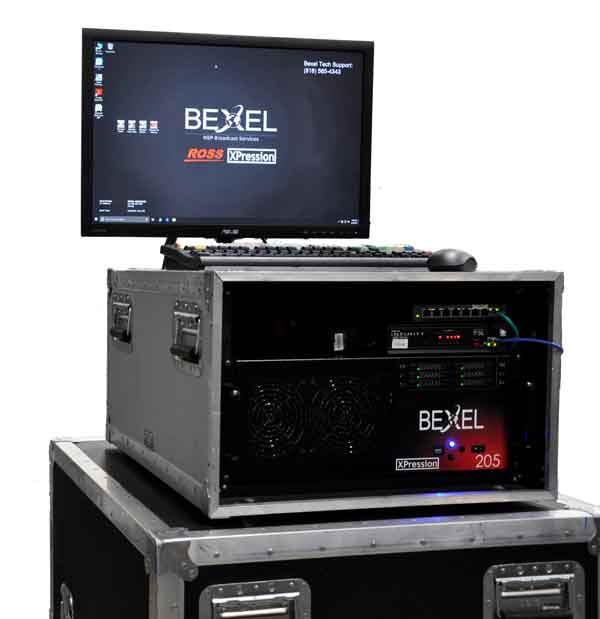 Bexel have expanded their graphics offering to now include Ross Video's XPression – the fastest growing real-time graphics platform in the industry.
The addition of XPression systems to Bexel's rental inventory strengthens the company's ability to continue to provide high-end, cost effective graphics solutions to clients in the entertainment, sports, and E-gaming markets.
Whether you're creating news, elections, sports, entertainment, branding, touchscreen, social media, virtual sets or augmented reality, Ross Video's XPression is an incredibly scalable solution. From a portable configuration to purpose-built hardware, there is an XPression platform that suits all configurations and applications. Unique to Bexel's offering, the company custom engineered a compact 4RU 20" chassis to accommodate mobile truck racks where space is always at a premium. As part of the NEP Group, Bexel's graphics rental capabilities and resources provide better scale to existing NEP clients, reducing shipping costs, minimizing accidental damage, and enabling smoother logistics.
XPression will make its first appearance at the NBA All-Star Game on February 17th in Charlotte, North Carolina. Each Bexel XPression kit is fully loaded, equipped with XPression Studio Standard Edition, DatLinq Server, Clip Server and CII gateway software options.
"We are proud to offer our clients the best in broadcast graphics technologies. The addition of XPression to our rental fleet enables us to support all the elements that are required for AR and virtual set production," said Tom Dickinson, Vice President, Technology, Bexel. Patrick Twomey, Director of XPression Product Marketing for Ross Video, is also pleased to see XPression being more widely deployed. "XPression has enjoyed enviable growth over the last few years and now powers many of the world's most recognizable awards ceremonies, live entertainment shows and sports broadcasts. We're very pleased that Bexel is now also offering XPression and we can't wait to see the creative results on our screens."
www.rossvideo.com
Top Related Stories
Click here for the latest broadcast news stories.