Broadcast News
23/01/2019
New Video Chips To Be Demonstrated At ISE 2019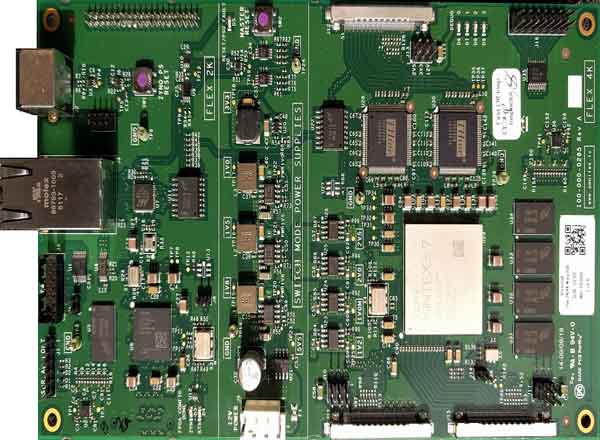 Omnitek is widely known in the broadcast industry for its test and measurement products that provide solutions for equipment manufacturers, content creators and post production. In addition to this, many broadcast equipment manufacturers use Omnitek's FPGA/MPSoC intellectual property to provide everything from lens correction, image processing and standards conversion to display screen solutions.
Omnitek has twenty years' experience in video and vision FPGA design and at ISE this year will be demonstrating some recent developments in the form of single-chip SoCs to allow manufacturers in the vision and video arenas to get products to market as quickly and effectively as possible.
The Omnitek Flex 2K and Flex 4K SoCs, demonstrated on the Flex development board at ISE, offer advanced warping and edge blending of video images and allow rectilinear and arbitrary image warps to be applied to a video stream.
The Flex 2K and Flex 4K devices are ideal for projector image correction, camera lens correction and VR/AR applications where images of up to 2048 x 1200 pixels (Flex 2K) or up to 4096 x 2400 pixels (Flex 4K) need to be processed at up to 60 frames per second.
The comprehensive specifications and functions of Flex allow it to be used in any application that requires image geometry correction such as projectors, video-walls, cameras and virtual reality headsets.
Flex 4K Block Diagram
Flex can be controlled via SPI, I2C and TCP/IP ports to perform both low-level warp instructions (such as keystone correction, rotation, pin cushion and barrel correction) and high-level commands (such as forward and inverse grid transformations).
Flex Development Board
The Flex development board and reference design allows manufacturers to quickly implement their product designs using Omnitek's Flex products.
The Omnitek Javelin AV over IP SoC enables 2160p60, 4:2:2 HDMI video to be distributed via a TCP/IP network to provide peer to peer extension, multicast and multi-viewer operation using a server/client architecture as a single chip solution. This device can be configured as either the client or the server and is ideal for 4K KVM and extender applications requiring HDMI 2.0 or 12G-SDI inputs/outputs.
Javelin Server / Client Block Diagram
The high level of integration and very efficient use of resources within the Javelin device results in a low component count and simplified PCB design and layout, thus reducing manufacturing costs and development time.
For those who wish to have a different feature set to that defined in the Flex or Javelin datasheets, Omnitek can provide design services with intellectual property to create a bespoke SoC solution to your individual needs.
In addition to providing design services with intellectual property and SoC devices, Omnitek also designs and manufactures test and measurement equipment for broadcast and video systems. This expertise in the full spectrum of disciplines from chip design to equipment manufacture means Omnitek understands all the stages, processes and challenges that are faced when getting products from drawing board to market on time and are therefore ideally suited to help others develop their own products. They have expertise in-house, and industry contacts, to be able to find solutions to problems in circuit design, PCB layout, manufacturing, testing, compliance and other areas.
Their design consultancy team will be available at ISE 2019 to discuss your project needs and discuss the benefits of the Flex and Javelin solutions. Stand 15.D240
Alan Wheable FISTC, MITOL – Communications Manager at Omnitek
This article is also available to read at
BFV Online
Top Related Stories
Click here for the latest broadcast news stories.