Broadcast News
19/12/2018
Megahertz Implements Broadcast-Quality Studio At College In London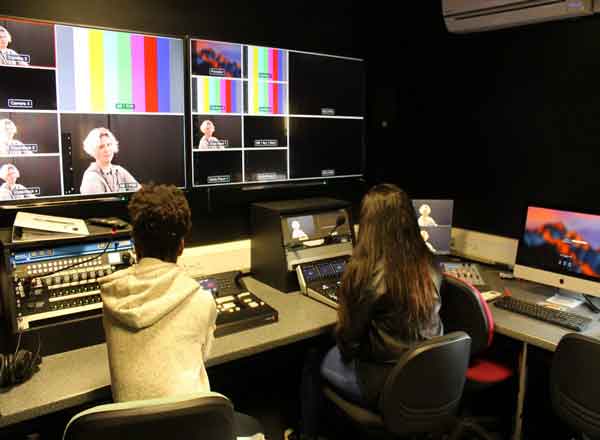 Megahertz has implemented a broadcast-quality studio at Havering Sixth Form College to the east of London.
The studio provides all the facilities students need to create studio programmes.
"We won special funding through the Mayor of London's Skills for Londoners Programme," said Brian Martin, Faculty Leader responsible for Media at Havering Sixth Form College. "We wanted to create a space that allows our students to design, execute, produce and evaluate digital solutions to a variety of creative briefs, a space that inspires, challenges and develops the employability skills of all of our students, many of whom are from disadvantaged backgrounds, to experience a state-of-the art industry standard studio first-hand."
To meet the requirements on a limited budget, Megahertz developed a system largely based around Blackmagic technology, including the Blackmagic Studio Camera. Fitted with Panasonic Lumix lenses, the three cameras are mounted on Sachtler pedestals with FSB fluid heads. One camera has an Autocue prompter.
"One of the advantages of the Blackmagic camera is that it has full camera control, through a CCU-like device, making it feel like a full studio camera," said Steve Hope, project manager at Megahertz. "From an installation point of view, though, it is simple because the control signals are embedded on the return video feed to the camera, so all we need to install are two SDIs and the DC power."
Signal control uses a 40 x 40 router and a 2 M/E production switcher. Audio functionality is all contained in a Behringer X32 compact digital mixer, which hosts all the tools which would normally be outboard.
A Blackmagic Hyperdeck provides iso recording for each camera as well as the programme output. The Behringer X32 also provides iso recording for each audio source, as well as eight outputs.
While three cameras have been supplied as part of the contract, the whole system has been wired for a fourth, should the college decide to expand its capabilities either temporarily or permanently in future. The system is also 4K Ultra HD ready.
As well as the challenge of designing a comprehensive system to a budget, Megahertz faced the constraint of converting a classroom into a broadcast studio over the summer holidays. The company managed subcontractors to meet the deadline, including LCC which provided the lighting grid, DMX control and luminaires as well as a range of drapes.
To speed the installation, much of the wiring was pre-fabricated in the Megahertz workshop, meaning it just had to be laid out and loomed on site. The contract also included a short training programme to get the college staff up to speed on the system. Megahertz has provided Havering Sixth Form College with an extended warranty to July 2021, with remote support available from the Megahertz head office.
www.megahertz.co.uk
Top Related Stories
Click here for the latest broadcast news stories.