Broadcast News
18/12/2018
ATEME To Enable Real-World ATSC 3.0 Field Research And Testing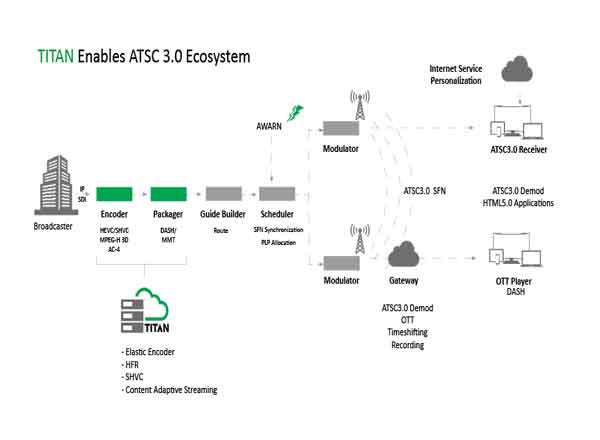 ATEME is enabling real-world ATSC 3.0 field research and testing of next-generation television features at the National Association of Broadcasters (NAB)/Consumer Technology Association (CTA®) test station in Cleveland.
Utilizing ATEME's software-based TITAN solution, NAB/CTA is testing multi-channel HEVC encoding for ATSC 3.0 including advanced features such as UHD, HDR, DRM, next-gen emergency warning, SHVC and digital ad insertion.
In addition to superb video quality allowing NAB/CTA to deliver the ultimate viewing experience, ATEME's solutions offer the following benefits:
'Blink-of-an-eye' migration path to ATSC 3.0, HEVC or SHVC (Scalable HEVC)
Flexible Architecture: TITAN is server-agnostic and can run on any private/public & on/off-premises Cloud infrastructure with the same benefits and value proposition. License mobility is inherent.
"ATEME is very committed to the ATSC broadcast industry and we support several ATSC 3.0 field trials," said Chad Hassler, VP North America for ATEME. "Our solutions enable broadcasters to reap immediate ATSC 1.0 gains and utilize technology that does not need to be repurchased for the exciting ATSC 3.0 future. We have assembled a dedicated sales and service team to bring our advanced technology to the US broadcast market."
Dr. Mickael Raulet, Director of Research & Innovations added: "ATEME is proud to support NAB/CTA. We collaborated to implement our advanced technology in the Next-Gen TV test station and to seamlessly demonstrate the delivery of new broadcast services and the real-world capabilities of the new ATSC 3.0 standard."
www.ateme.com
Top Related Stories
Click here for the latest broadcast news stories.