Broadcast News
25/01/2018
Riedel Communications Marks 30 Years of Innovation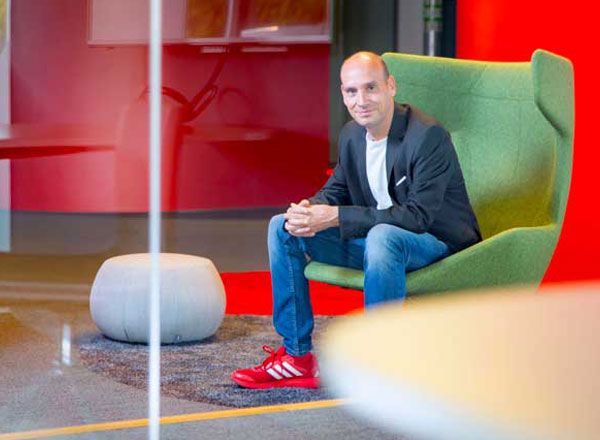 Celebrating three decades of business this year, Riedel Communications has become synonymous with excellence in real-time video, audio, data, and communications networks.
Riedel solutions have starred in a wide range of marquee events from F1 and the Olympics to Red Bull events and even Felix Baumgartner's dramatic freefall from the edge of space. Today, Riedel has almost 500 employees working at its state-of-the-art headquarters in Wuppertal, Germany and locations around the world.
Riedel's founder and CEO, Thomas Riedel, has guided the company through significant milestones over the past 30 years. His interest in entertainment can be traced back to age 12, when he launched his first "career" as a magician. Later on in school, he developed an interest in lighting and sound technologies, and an early passion for theater soon expanded to broadcast and other media/entertainment areas.
From the beginning, Thomas has been a master of spotting opportunities and then positioning the company to take advantage of them. In one example, he had happened to purchase some radios from Motorola, which created opportunities to provide specialized communications solutions to his growing client base and also resulted in his first product, the RiFace radio interface.
Building a world-class team
As the company grew, Thomas became keenly aware of the need to build a strong company that could be trusted to handle large projects, but at the same time would also be small and agile enough to respond quickly to changing market needs. He boils the company's success down to a single element: "Finding great people and then giving them the freedom and tools to do their best." Today, this commitment is evident throughout the Riedel organization, from the executive suite to the product management and back-office teams, the rental division, and the professionals who are out there every day advising, teaching, and supporting Riedel clients worldwide.
Hitting the big time: Formula 1
Riedel's entry into Formula 1 happened by accident. In Lillehammer at the 1994 Winter Games, Thomas sat for an interview for Radio Wuppertal, a local station. He relates, "We were talking about our work on matrix intercom technology prior to launching Artist. In Germany, an F1 representative was driving down the Autobahn and heard the interview, and that's how we got involved in motor sports. We have been supporting F1 events around the world with communications and signal transmission solutions ever since."
Continuing innovation
A very important milestone for the company was the introduction of the revolutionary Artist digital matrix intercom system in 2000. This brand new intercom approach, based on decentralized nodes in a fiber network, brought Riedel its first real international customer base.
Riedel's launch of MediorNet in 2009 was another big product milestone. MediorNet was the first fiber-based, real-time signal network for broadcast, event, and stadium production that included transport, routing, and processing in a single box.
Introduced just last year, Riedel's Bolero is a giant step forward in DECT-based intercom systems. Previously, DECT-based systems had difficulty with multipath RF reflections, which could create reliability issues in large buildings like sports arenas. Riedel knew there was a huge demand for a new DECT system that could excel in harsh RF environments and be adaptable to all segments of the market, not just certain areas like outside broadcast or fixed installations.
The Riedel team was determined not to launch a product until it could meet these requirements. After three years and a serious R&D investment, the development team finally hit on the right solution with Riedel's Advanced DECT Receiver (ADR) technology. ADR is a diversity receiver technology specifically designed to reduce sensitivity to multipath RF reflections, making it useable in challenging RF environments where other systems have great difficulty.
With Bolero and ADR technology, Riedel now offers a superior DECT solution that meets a critical market need, and the sales numbers bear this out.
Looking ahead
The future is bright for Riedel Communications. Along with a wide range of upcoming projects, the company is looking forward to participating in the Mission to the Moon project with the PTScientists, providing mission-critical communications and signal transport for a return to the lunar surface. Thomas sums up, "With the best and most passionate people in the business – from engineers and product managers to sales, service, and support – we're on top of our game. I may have gotten my start as a magician, but now almost 500 Riedel employees perform their magic every day. It just proves the old maxim, 'There is no 'I' in TEAM!'"
Image: Thomas Riedel
riedel.net
This article also features in the January edition of Broadcast Film & Video.
Top Related Stories
Click here for the latest broadcast news stories.