Broadcast News
05/12/2018
NTV Moves To An IP Infrastructure For All-HD Distribution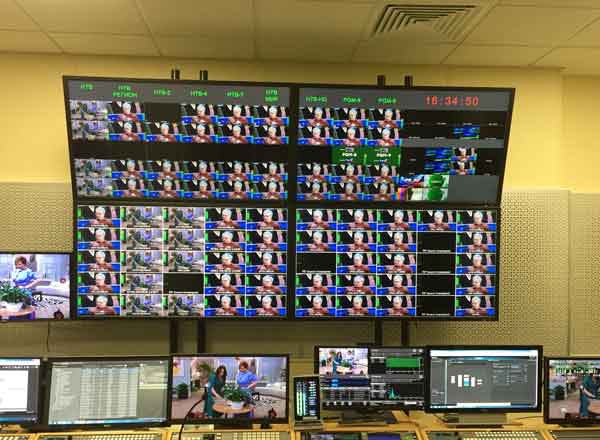 Imagine Communications has delivered a scalable, next-generation playout system for Russian broadcaster NTV. Looking to expand its operations to support new channels, NTV decided to take the opportunity to move to an IP infrastructure for all-HD distribution.
NTV's new playout facilities have been designed and implemented by Moscow-based systems integrator OKNO-TV in collaboration with engineers from NTV and Imagine Communications. Entirely software-based, the new playout platform runs on commercial off-the-shelf (COTS) hardware and uses the SMPTE ST 2022-6 standard to carry media as uncompressed video signals.
The platform currently delivers nine HD channels, with additional channels reserved for previewing content. The software approach ensures a much higher density of channels than a traditional installation, and future expansion — which NTV is already planning — can be accomplished simply and quickly. Full redundancy ensures a high level of playout security.
"We are delighted to be one of the pioneers in the industry to implement uncompressed IP playout at this level and proud to be working with such partners as OKNO-TV and Imagine, who are recognised for groundbreaking solutions," said Andrey Drukker, chief technologist at NTV. "By taking a virtualised software approach and using the industry standard SMPTE ST 2022-6, we have achieved a highly scalable and flexible operation which is as reliable and efficient as a traditional playout system."
The NTV facility uses Imagine's Versio™ virtualized integrated playout and Versio™ IOX SAN storage, which allows scaling of storage and bandwidth without affecting existing media or interrupting on-air operations. Imagine's widely adopted ADC™ automation, Nexio® Ingest and Nexio® Motion™ asset management ensure a streamlined content management environment. NTV's legacy source signals are encapsulated for the new system using Selenio™ MCP multichannel uncompressed-over-IP modules, while EPIC™ MV hybrid IP, UHD-ready multiviewers are used for system monitoring. The entire hybrid SDI/IP solution operates seamlessly under the management of Imagine's Magellan™ SDN Orchestrator software control system.
Versio and EPIC MV are both powered by Zenium™, Imagine's pure microservices-based software platform, which enables media companies to easily update format and features with no hardware replacement and no interruption to mission-critical services, and reduce OpEx by deploying only what they need, when they need it.
Denis Stolnikov, system architect of OKNO-TV, added: "Designing and implementing an uncompressed IP multichannel playout system for such a high-profile customer as NTV has been an honour and required considerable effort and trust on all sides. The key to the success of this project was our ability to demonstrate the flexibility and security of Imagine's Zenium-based software and its ability to provide broadcast-quality playout performance from the industry-standard uncompressed HD over IP."
www.imaginecommunications.com
Top Related Stories
Click here for the latest broadcast news stories.