Broadcast News
19/11/2018
Gallowglass Delivers 1,000kg Screen To Manchester Printworks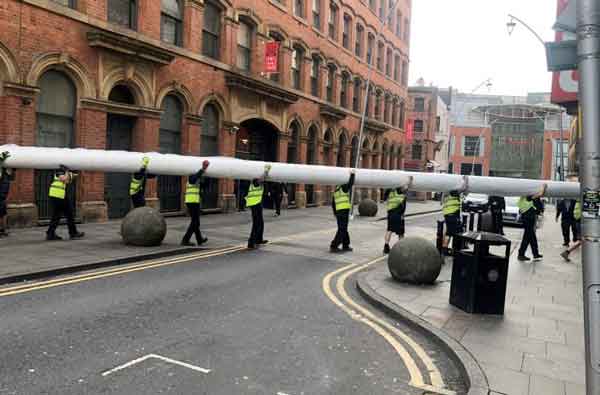 Crewing specialists Gallowglass have delivered a 1,000kg screen to Manchester Printworks.
The launch of the new super-size IMAX Laser screen at the Vue Manchester Printworks, was facilitated by a meticulous load-in operation by Gallowglass.
Gallowglass Crew Chief James Graham Hawker said: "Loading-in the 1,000 kg weight was like a military operation; it took 15 crew to carefully manoeuvre the 20 m cylinder.
"The biggest challenge was carrying it up to the second floor, up flights of stairs, manoeuvring around pillars and tight corners."
The task of getting the giant screen safely delivered to the Vue Cinema was the responsibility of media production company Cinelogic Digital, which has been contracted to install and fit a series of IMAX screens throughout the UK and Europe.
Cinelogic Director Andy Guthrie said: "The new IMAX screen is the second biggest screen in Europe, featuring the latest laser technology. Vue are justly proud of bringing it to Printworks; at the moment there are only two other venues in the UK to have it.
"Obviously, we had to ensure that it would be handled with extreme care. The results of any harm coming to the screen in-transit would have been catastrophic. Luckily, Gallowglass have a large Manchester base at MediaCityUK, so it was a bonus to be able to source local expertise for the job."
In total, Gallowglass deployed 52 crew to load-in speakers, projectors and other equipment as well as the IMAX screen itself.
.
Top Related Stories
Click here for the latest broadcast news stories.