Broadcast News
15/11/2018
Visix Unveils Version 2.9 Connect Interactive Room Sign Software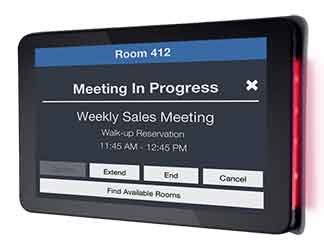 Visix has released version 2.9 of their Connect interactive room sign software, with improved workflows and support for EMS Platform Services.
"As calendar applications evolve, we want to be sure our room signs evolve, as well," said Trey Hicks, chief sales officer for Visix. "It's critical that we provide direct API integrations with the leading event management systems, and EMS Software has one of the best. This new release for our Connect room signs ensures our clients who are using EMS have a seamless integration experience."
EMS Platform Services is the middle-tier component and RESTful API foundation that provides a modern, scalable way for partners and customers to integrate with the EMS Platform. EMS Platform Services gives organizations the freedom to create their own integrations more quickly and with less complexity. The EMS open platform provides easy and faster integrations, a consistent experience across all EMS products, and improved performance and quality.
Connect room signs give clients a stand-alone, centralized space management solution to update and manage room signs from an administrative console, while pulling schedule data from their own calendar app. The interactive signs allow booking right at the sign, have red and green availability lights, and come with architectural accessories for surface mounting and recessing in walls.
Visix has also launched its new website. The new design completely overhauls Visix's product information, blog and content offerings, as well as providing a smoother, more intuitive user experience.
With a fresh look, the new site lets users easily navigate through Visix's extensive product and service offerings. Enhanced navigation and richer interactive multimedia elements make it easy for visitors to learn how the company's digital signage software, content solutions and digital room signs can help with audience engagement, space management and bottom-line results.
"We strive to improve every aspect of our online and offline presence in order to offer value-add tools for our customers, industry partners and employees," said Debbie DeWitt, marketing communications manager for Visix. "We wanted to design a site that visitors would find useful, and want to come back to again and again. We see this as one more way we can demonstrate our commitment to excellence in providing exceptional service and responsiveness."
In addition to info-rich pages covering the company's products and services, the site offers a growing library of free resources for digital signage clients needing advice on best practices for digital communications, content design and success measurement. The site will be updated with fresh content on a regular basis, including inspirational design and installation photo galleries, educational blog articles, infographics, white papers, guides, videos and more.
The website also features self-service tools like a digital signage cost estimator, searchable FAQa and a tech support scheduler. Delivering a fully responsive experience, the site has been optimized to ensure visitors have a user-friendly experience across all digital devices, including desktop and mobile. It also includes easy search and social sharing tools.
www.visix.com
Top Related Stories
Click here for the latest broadcast news stories.