Broadcast News
07/11/2018
New TV Channels On A Shoe String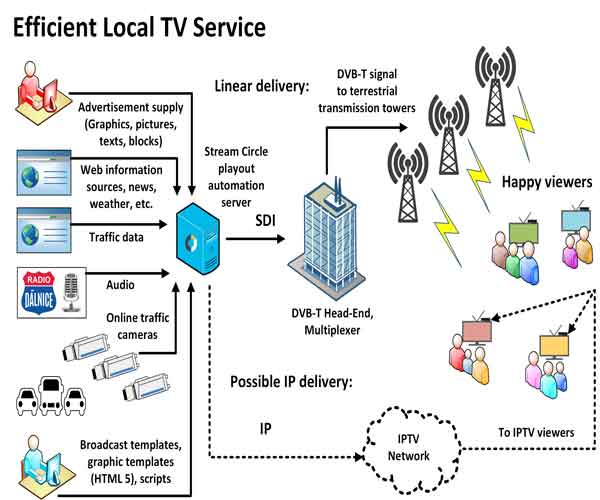 Hardly a day goes by without a new TV channel springing up somewhere in the ether. The plethora of choice tends to a situation where audience statistics are reducing on a per-channel basis, which then leads to a challenge for any particular channel concerning their profitability.
Capital costs for a TV start up can be very high if one pursues the traditional TV broadcast methodology which, even with the greatest respect, presents a very high risk to owners and investors of such newly launched enterprises. Experienced players on the broadcasting markets are well aware of many small innovative new channels that failed in their infancy, being unable to attract sufficient revenues to sustain their capital and current expenditures.
In this article, we would like to bring to your attention the story of "Info TV Brno and South Moravia" (a little north of Vienna and part of the Pohoda Media Group), which is currently blazing a trail across start up territory, and managing to avoid many of the above risks by using proven technology now available from Stream Circle. It is no coincidence that Stream Circle won the Game Changer Award at NAB 2015 principally because it allows creative entrepreneurs to establish new TV channels with zero capex.
"We particularly wanted to create a local TV service that would bring news, specialised information regarding traffic conditions, current affairs and other valuable regional services," says Nikola Parizkova, Executive Director at Pohoda Media Group, "but we were concerned at the potential capital costs and so we had to look around for alternative solutions. Having met the guys from Stream Circle at IBC Amsterdam, we were immediately impressed by their technical knowledge and zero capex offer." Negotiations took place and agreement was reached to implement the solution for the client with a minimum of delay, a process which took only a few days before the station was up and running.
The diagram clearly illustrates the content flow in Info TV Brno's operations. A principal consideration for this design is the minimum level of manpower required for this highly automated solution which further reduces expenditures for the broadcaster. On the left, we see several content sources. Most of them are IP-based, including, for example, current traffic data from the web, live streams from traffic cameras, local weather forecasts, local and national news, economic and financial updates, all enhanced by audio from Radio Dalnice (Radio Highway, also a member of the Pohoda Media Group), and financed by local and national advertising. These various sources are then fed through the Stream Circle solution that serves as playout automation and the graphics engine to the output. During this process, the software is able to create more attractive content by adding banners, hot news announcements, local warnings, emergency messages, special offers, and other graphics, logos, crawling texts, etc. The Stream Circle solution supplies all this as an HD-SDI signal to the DVB-T head-end. Alternatively, programmes can be simply streamed over IPTV networks, if required.
From the financial perspective, Info TV Brno is a first class reference client for Stream Circle even though it covers a population of only 1.2 million people. As it is a free-to-air service, the channel operations must be extremely efficient because most income is generated by cost-conscious regional advertisers rather than mega rich global corporations.
Author: Martin Junek
Portrait: Nikola Parizkova, Pohoda Media Group
Picture: Efficient Local TV Service
www.streamcircle.com
This article is also available in the November issue of Broadcast Film & Video
here
.
Top Related Stories
Click here for the latest broadcast news stories.