Broadcast News
25/10/2018
ES Broadcast Delivers UHD Portable Production Units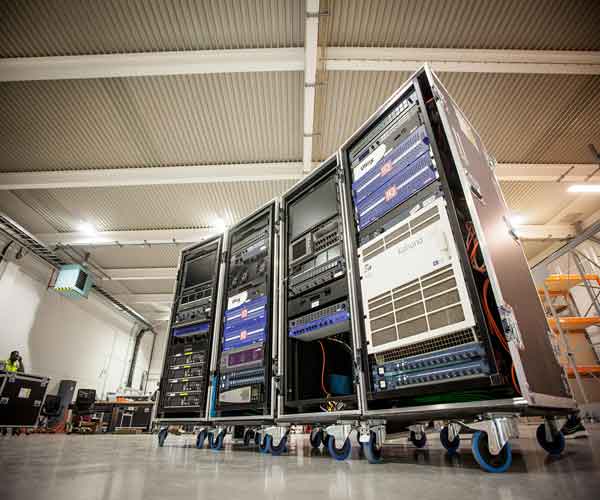 ES Broadcast's systems integration division has delivered three UHD portable production units and one HD 3G PPU for live events and AV specialist, Creative Technology (CT).
Built on some of the latest routing and switcher technology, the new flyaways will allow CT to expand and upgrade the specialist AV services it offers to clients in the sports, entertainment, exhibition and corporate sectors.
"The PPUs were designed to combine the cutting-edge technology which underpins the units' UHD capabilities with simplified operability and a familiar system architecture that would allow engineers to easily transition between existing and new systems," said Chris Williams, Projects Director for ES Broadcast.
"Our solution mirrored the logic of the Grass Valley Kayak 1080i systems CT already had in operation, but incorporated technology capable of 1080p and UHD live production," he explained.
"By combining a Ross Ultrix FR2 router and TSL Tallyman control system for each PPU, we were also able to deliver a highly integrated, flexible solution that is really intuitive for operators to use.
"The Ultrix is a powerful router core that offers high functionality within a small form-factor. And Tallyman has become a popular go-to solution for delivering completely customisable control solutions that allow users to streamline complex processes down to a user-friendly touch screen system."
The PPUs had already proved their worth on a number of high-profile jobs, said Sid Lobb, Head of Vision and Integrated Networks for Creative Technology.
Two of the UHD PPUs are split-rack systems based on Grass Valley Korona vision mixers, while the third is a dual-rack system based on a Ross Carbonite vision mixer. The HD 3G PPU uses a S-A-M Kahuna 360 vision mixer. This HD flyaway was an existing system that was rehoused and upgraded to offer 3G capabilities.
All four PPUs feature a Ross Ultrix FR2 12G UHD routing platform, with full Demux/Mux, frame-syncs, multiviewers and gearboxing. The Demux/Mux and Madi Core were also used to deliver enhanced audio capabilities, a key requirement for CT. In each unit, the Ultrix router is controlled using a TSL Tallyman control system with control panels.
ES Broadcast also built fully customised rear panels for the racks, as well as fitting motorised production monitor racks and building production desks with integrated comms, control and mixer surface. Each rig can be fully supported remotely.
www.esbroadcast.com
Top Related Stories
Click here for the latest broadcast news stories.