Broadcast News
11/10/2018
Riedel's Bolero Wireless Intercom Brings The Excitement Of Auto Racing Home To BBC Radio Listeners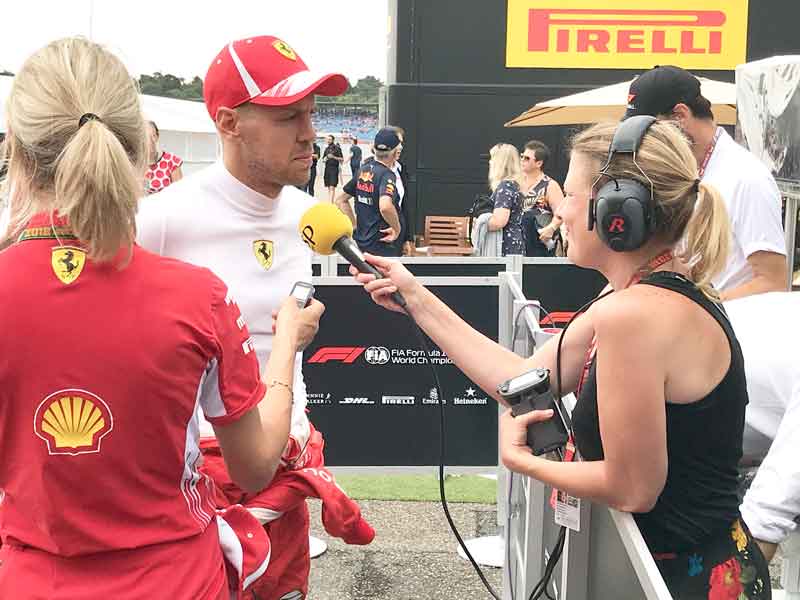 As the world's most famous open-wheel racing series heads down its home stretch, fans around the world are enjoying the non-stop action. And while the racing season covers a significant part of the calendar and moves back and forth over the globe between its start in Australia and the finish in Abu Dhabi, broadcasters are faced with the challenge of bringing race coverage back to their home markets.
Dispatching a technical crew to cover all of the events would present a daunting cost to even large radio broadcasters such as the BBC. But, through the use of some clever engineering and Riedel's Bolero wireless intercom system, each race is delivered to viewers with a minimum of technical and production staff and without any sacrifice in quality.
Bolero is an expandable, DECT-based intercom system in the license-free 1.9GHz frequency range, designed to run over a standards-based AES67 IP network. Fully integrated with Riedel's Artist digital matrix intercom platform, Bolero offers near-foolproof connectivity that can be applied three ways: as an exceptional wireless beltpack, as a wireless keypanel, and, rather uniquely, as a walkie-talkie radio.
In a typical Bolero deployment, decentralized antennas connect to AES67 switches and then to Artist frames equipped with AES67 client cards, providing a fully integrated point-to-point intercom ecosystem with seamless handover capabilities. An important feature for the BBC's on-air coverage is the Bolero high-clarity voice codec, which provides both higher speech intelligibility and more efficient use of RF spectrum. This means each Bolero antenna can support twice the number of beltpacks as other DECT-based systems while still delivering crystal-clear audio quality.
All of these features are integral to the BBC's solution for covering the auto series. When the engines roar in Europe, USP Content sends its presenters for BBC Radio to the track — where a Riedel Artist 64 matrix intercom frame provides typical commentary boxes and supports Bolero for remote interviews on pit row and elsewhere around the circuit. The trackside Artist 64 frame connects Bolero and commentator boxes to another Artist frame in London via managed MPLS circuits to Frankfurt and then VPN on to London.
When the auto series ventures off of the continent, the presenters stay at home in London, and only the Bolero bits and a few staff make the longer journeys.
The Bolero setup has been a huge improvement for field producer Chessie Bent and presenter Jenny Gow. Their previous approach was a high-powered RF wireless system that was comprised of, among other things, a very cumbersome antenna that had to be physically carried around along with the other gear. Since one Bolero antenna can cover the entire pit and backstage area, Bent and Gow are free to roam around and grab interviews with drivers and celebrities at will.
"We have been using Riedel's Bolero system since the beginning of this season, and it has completely changed the way we work," said Bent. "When we were using equipment from several vendors and sources, trying to make everything work was very challenging. Now, with this setup, all of our headaches are completely gone! We don't have to worry about complex cabling, buying licenses, carrying antennas, or painful frequency coordination. Life is so simple now!"
"It's easier than plug-and-play," said Gow. At each race, she dons her Bolero beltpack and MAX headset, and she's immediately ready to go to work by just pressing the ON button. The Bolero beltpack is fitted with a "y-cord" arrangement that permits the use of an interview mic. At the same time, Gow uses her noise-isolating MAX headset to take instruction from Bent and to converse with her "off-air" when needed. The amazing sound quality of the Bolero system ensures clear, broadcast quality audio at all times.
www.riedel.net
This article is also available in the October edition of Broadcast Film & Video
here
Top Related Stories
Click here for the latest broadcast news stories.