Broadcast News
03/10/2018
Moment Pictures Adopts flowtech100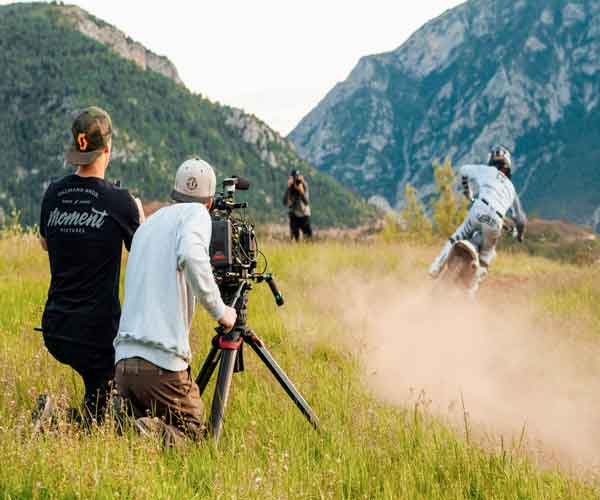 Moment Pictures, a German production company owned by brothers Andi, Toni, and Michi Tillmann, has adopted the all-new flowtech100 after testing the tripod in extreme environments on a recent location shoot in the Canary Islands.
The latest collaboration from trusted brands Sachtler® and Vinten®, flowtech100 is compatible with all major 100mm fluid heads and supports a payload of up to 30 kilograms (66 pounds), making it ideal for a wide range of wildlife, commercial, and documentary projects as well as heavy-duty electronic newsgathering and electronic field production.
The Tillmann brothers are well-known for their outdoor adventure films set in stunning locations around the world. Through Moment Pictures, they have teamed up with leading sports equipment providers on numerous projects that feature their signature style, a combination of action, lifestyle, and nature.
The Tillmanns recently tested the flowtech100 tripod for the latest episode of bicycle manufacturer Scott Sports' promotional video series, "Chasing Trail," shot on the remote mountain-biking trails of La Palma, Canary Islands, and featuring rugged locations ranging from rainforests to lava fields. For the "Chasing Trail" Canary Islands shoot, the crew used flowtech100 with an Arri Alexa Mini mounted on a Sachtler 7+7 fluid head and equipped with one of an assortment of fast Schneider Cine-Xenar III lenses, 200Wh batteries, wireless lens control, and monitoring.
Like flowtech75 — the first tripod in the flowtech series — the new flowtech100 is built with an exclusive carbon-fibre technology featuring the world's fastest-deploying tripod legs. Unique, quick-release brakes conveniently located at the top of the tripod mean the legs can also be deployed simultaneously and adjust automatically to the ground's surface — saving operators from having to bend over and manually adjust multiple brakes on each leg.
"On remote productions like 'Chasing Trail,' we rely on a small and effective crew, which means the equipment must be lightweight, fast to deploy, and durable without compromising quality," said Toni Tillmann, Moment Pictures' director of photography. "That's why the new flowtech100 was so valuable on this shoot — it was able to handle any type of terrain wherever we set up. With the precise and reliable Sachtler head, even a 15-kilogram payload was at home on the tripod, and we had perfect torsional stability for precise long-lens pans. But the flexibility to handle any kind of camera angle is what really sets the flowtech100 apart from the competition."
In one example, the "Chasing Trail" crew needed to get a level shot while standing on the side of a steep mountain face, requiring the legs of the tripod adjacent to the mountain to be retracted and angled almost horizontally, while the downhill leg was fully extended. The crew was able to achieve the configuration by removing the midlevel spreader, which also allows the tripod to go as low as 26cm for ground-level shots.
Toni Tillmann added: "flowtech100 is a game-changer. We really appreciate the initiative that has been taken to push the evolution of this classic piece of equipment. I was really stoked to try flowtech100 in La Palma and can't wait to bring it along on one of our next adventures."
"With a client list including Red Bull Media House, GoPro, and Scott Sports, Moment Pictures specialises in film projects that take the crew far off the beaten track. The Tillmann brothers are experts at capturing quintessential and transient moments in the natural world, and it shines through in every one of their films," said Barbara Jaumann, product manager — supports, Vitec Production Solutions. "The 'Chasing Trail' project was a perfect testing ground for the flowtech100 and showed off its light weight, fast and easy setup, stability for heavier payloads, and versatility for unusual camera angles, all of which were critical requirements for the project."
www.flowtech-tripod.com
Top Related Stories
Click here for the latest broadcast news stories.