Broadcast News
13/03/2018
Sachtler & Vinten Showcase Award-Winning flowtech 75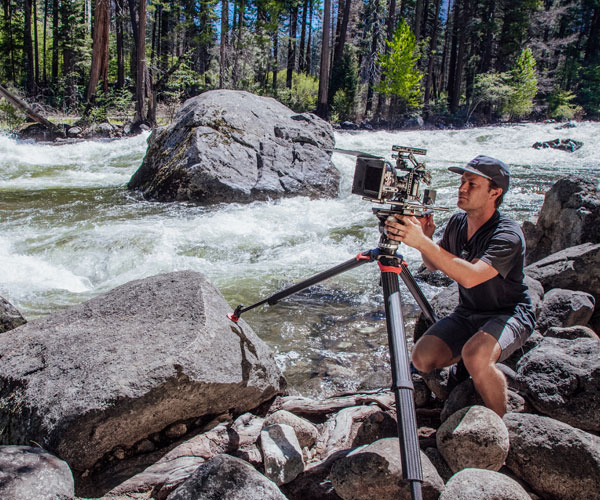 Sachtler and Vinten, global industry leaders in camera supports for more than 100 years, highlighted their latest joint venture: flowtech™ 75.
The flowtech 75 is a revolutionary new tripod that simplifies and accelerates camera operators' workflows with instant and easy setup, versatile height range, and exceptional torsional stiffness.
Compatible with all major 75 mm fluid heads, flowtech 75 tripods offer a set of two-stage, carbon-fiber legs with an easy-to-remove midlevel spreader, rubber feet, and a payload capacity of 20kg (44lbs). Quick-release brakes make it possible to deploy all legs simultaneously and adjust them to the ground's surface automatically, eliminating the need for operators to bend over or manually adjust multiple brakes on each leg. A unique hinge-lock mechanism allows users to capture extremely low, ground-level shots, removing the need to bring a second set of "baby legs" to each shoot. The torsional stiffness of flowtech ensures that the tripod will not twist during camera- panning movements.
The flowtech camera technology, launched in September 2017, won three coveted industry awards at IBC. Most recently, flowtech was named "Best Tripod of 2017" by world-renowned filmmaker Philip Bloom, who commented: "flowtech instantly became my favourite video tripod the first time I used it. The ability to change the height from the three top latches has speeded my ability to get the perfect angle for shots. flowtech also saves my grumbling back from constantly bending down to change the height, as with the traditional tripod adjustments."
Darren Bramley, Head of Camera Operations for ITV Daytime, commented: "Testing out flowtech 75 for 'This Morning', we found the height adjustment very easy, a real boon for setting the legs in tight spaces and in a hurry. This tripod became a real hit with our crew!"
In addition to the flowtech 75 tripod, Sachtler and Vinten have introduced two optional accessories. The flowtech 75 dolly features an integral carry handle and foot-operated brakes for smooth and easy operation, while its foldable design allows it to collapse to a compact and easy-to-transport unit. Weighing in at just 4.7 kilograms, the dolly can support a payload of 40 kilos and a build radius of 53 centimetres. The new flowtech 75 carry handle allows users to carry their flowtech systems securely in one hand and attaches easily to one of the three flowtech accessory docks, making the tripod more versatile and portable than ever.
"flowtech is on fire because it fills a niche in the image-creation industry for a tripod that truly transforms the way camera operators work," said Tobias Keuthen, Director of Global Product Marketing Management for Vitec Group. "With flowtech, we've created a tripod solution that is far easier to use and more versatile than ever before."
The MSRP of the flowtech 75 tripod is $1,050, £810, or €960. The new dolly is available for $600, £450, or €510, and the detachable carry handle for $40, £30, or €35. All prices are subject to change.
This article is also available in the March edition of Broadcast Film & Video.
www.vitecgroup.com/
Top Related Stories
Click here for the latest broadcast news stories.