Broadcast News
01/10/2018
Avid Expands VENUE | S6L Live Sound Platform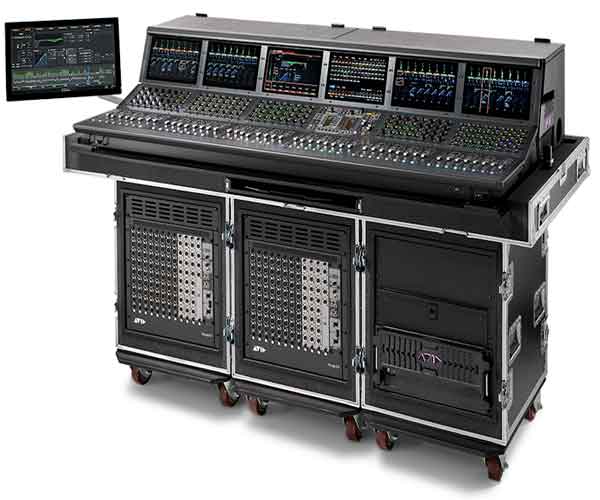 Avid® has announced the immediate availability of a new control surface, processing engine and I/O rack option for its expanded Avid VENUE™ | S6L unified live sound platform.
The Avid VENUE | S6L-24C control surface, Avid VENUE | E6L-112 engine and Stage 32 I/O rack are the first releases out of six new components announced in April 2018, providing sound companies and performance venues with greater flexibility to configure the perfect system to meet any production, space or budget requirement.
The fully modular Avid VENUE | S6L delivers best-in-class functionality for a wide-range of applications including front-of-house, monitor, broadcast, and theater. Avid VENUE | S6L is the industry's only live sound platform that offers 100% software, hardware and show file compatibility, enabling engineers to scale systems up or down to meet their changing requirements for control, processing, and I/O. Because the VENUE | S6L platform features the same VENUE software and workflows across every model, engineers are presented with an identical user experience regardless of system configuration, allowing them to focus on helping their artist to deliver the best performance possible.
"SSE have been ambassadors for S6L since its launch, utilizing the 32D and 24D consoles in hire stock as well as supplying systems to various UK rental outfits," said Alex Penn, Sales Director at SSE Audio Group. "These latest additions make the S6L platform a realistic option for a much larger customer base. We've championed S6L as we love the system's functionality, and now with an expanded range we're looking forward to seeing a lot more of them being used at all levels."
A complete VENUE | S6L System includes control surface, engine, and one or more I/O components—Avid is announcing that the following are now available:
VENUE | S6L-24C control surface: The new VENUE | S6L-24C is a more compact and affordable variant of the popular S6L-24D control surface, providing powerful performance and proven S6L workflows in a streamlined package. Featuring 24 faders, 32 assignable knobs, and an integrated central touchscreen, S6L-24C is perfect for festivals, corporate events, and live sound installations.
VENUE | E6L-112 engine: The powerful VENUE | E6L-112 is the ideal central processing component for mid-level systems, featuring 112 input processing channels, 48 busses, 100 plug-in slots, and support for up to two HDX cards. The E6L-112 connects to all S6L control surfaces, allowing users to select their desired processing capabilities without compromising on the level of control.
Stage 32 I/O rack: The compact Stage 32 brings premium-level sound quality to mid-level S6L systems, increases flexibility in distributing I/O across the performance space, and enables engineers to expand local and stage I/O. Featuring four card slots and using the same premium option cards as the Stage 64 I/O rack, Stage 32's modular design allows for maximum user customization—up to 32 inputs or outputs, in any order.
www.avid.com
Top Related Stories
Click here for the latest broadcast news stories.