Broadcast News
11/09/2018
Prism Sound Interface Deployed At Heart Of Sacha Puttnam's Workflow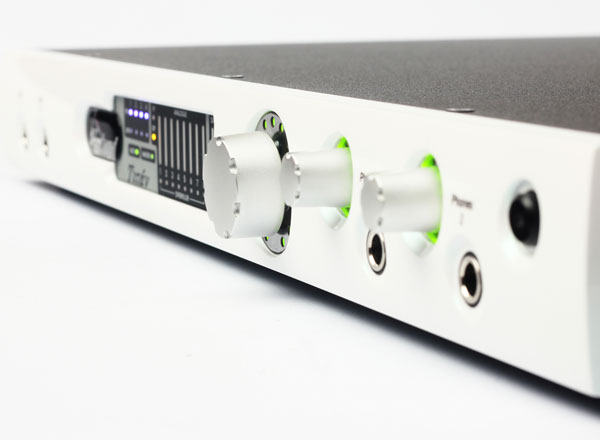 Prism Sound's Titan Audio Interface has been deployed at the heart of composer Sacha Puttnam's workflow.
"I spent a long time in film, where cinematographers take such care over lighting, framing and picture quality," Sacha Puttnam said. "It's the same for us musicians. We value our work, and that's why I use a Prism Sound Titan. As a musician/composer, I write notes, harmonies, counterpoint and flights of fantasy and I don't want to worry about the technical side of things. When I know the Titan is capturing whatever I create, I have peace of mind and space to focus on performance."
The son of film producer David Puttnam - Sacha's earliest musical experience was watching Paul Williams playing the original score for Bugsy Malone on the piano while he was taking his own first piano lessons. Later, he was in the studio as Vangelis created the theme music for the film 'Chariots of Fire', and Mark Knopfler was working on 'Local Hero' and 'Cal'.
He studied classical music and jazz at the Moscow Tchaikovsky Conservatoire and Berklee College of Music before touring the world with bands such as Bush, Muse and Moby. As a composer, he has scored over 25 films for directors such as John Pilger, Robert le Page, Andrea Arnold and John Dryden and numerous radio dramas and podcasts. He also re-works classic film scores, writes and arranges music for rock and pop artists and composes original music for his own projects.
Based in Brentford, Mr Puttnam's studio is equipped with a Titan, a computer and a Neumann U87 microphone running through an Avalon valve compressor and a stereo pair of Neumann K175s.
"I also have a few old friends from over the years, including a Nord lead, Oberheim, Roland JP8000 and Roland JV1080 with patches, a Sheltone portable 49, an Eventide Space, an MPC2000XL and a Yamaha pf85," he said.
The studio also contains a Roland V-Drum Kit, piccolo, flute, clarinet, violin and a wide set of percussion instruments, harmonicas and guitars.
"The bulk of my film and orchestral work is though VSTs," he explained. "Vienna Symphonic Library (pretty much the full set), Spitfire Audio (again huge and varied libraries), East West libraries and little gems I've picked up bit by bit. 8Dio have some lovely stuff, Arturia re-modelled old synths, loops, samples and odds and ends from the scores and tracks I've been involved in."
Mr Puttnam decided to buy a Prism Sound interface on the advice of Matt Howe, who he described as 'a brilliant engineer with golden ears'.
"Matt quite rightly pointed out that if we were going to pay for top musicians on top instruments at top dollar, we should have the top digital/audio converters," he said. "It made sense so we began to confidently pick rooms for our orchestral sessions rather than studios to record orchestras and the effect was instant. I love the comfort, safety and insulation of studios but somehow, with a special hall, something magic happens with the players, the instruments and the room. The sound blends exquisitely. At that point you need to know you've got great audio converters to capture the moments. I've been hooked ever since."
He has recently completed the score for 'F.U.B.A.R', the movie, which will be released soon and a set of '12 Nocturnes', which will be out in the Autumn. He has also completed a set of 1980's piano pieces as an homage to the artists and music he grew up with.
"I've also invested in a movie album with a full orchestra that features 12 tracks from film composers that have had the most influence on me - and I've just finished a piece for a big sporting tournament, which I have to keep under wraps for now," he concluded.
www.prismsound.com
Top Related Stories
Click here for the latest broadcast news stories.