Broadcast News
11/09/2018
Power Distribution The Intelligent Way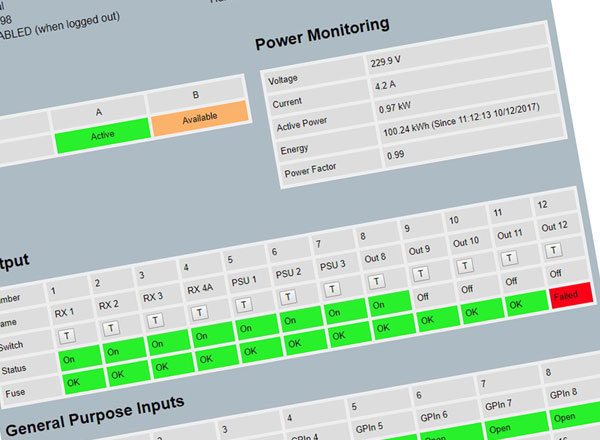 In a complex broadcast facility, controlled distribution of mains power to well-populated racks of precision equipment is essential. As well as distributing power neatly in minimum space, a modern mains distribution unit (MDU) will also monitor key electrical parameters, and provide the facility to control or even shut down equipment as necessary.
Sequential start-up is important in some applications, and in other situations it is essential that the outputs remain on if the internal control system fails. Information from MDUs, when managed intelligently, can allow energy usage to be controlled, ticking another box for the hard-pressed systems manager considering their environmental responsibilities.
So what should specifiers look for in a modern MDU? In common with other fields, power management has gone digital, and today's systems need to interface with a range of existing IT systems. On the hardware front, on-board circuitry enables error data to be captured even in the event of a sudden power loss. Inrush current limiting is extremely valuable when switching on equipment as the surge current can reach 100A or more. Other features may be available such as temperature and humidity monitoring.
Dual input MDUs enable main and back-up power sources to be connected, with switching to the back-up supply being automatic on power fail of the main source. Equipment such as dB Broadcast's Cardinal range of intelligent MDUs is designed to allow non phase coherent inputs to be switched, and if a back-up power supply is selected, it is possible to switch off non-critical equipment by shedding a number of MDU outputs.
Software control means distance is no object, and this allows monitoring and control of equipment at remote sites, even on the other side of the globe. Web-based, the Cardinal range features an intuitive user interface, SNMP MIB based control and monitoring, e-mail messaging and alerts for conditions such as loss of input mains power, blown fuses and changed output status on or off.
The user interface shows the status of the monitored units, and allows direct control of output relays. An IP configuration page is used to configure the network interfaces including the IP address, NTP, two trap destinations and the email address for alarms.
dB has added new features to its latest iMDU range, available from the end of this year. The latest models include remote power monitoring for optimising operational efficiency and early detection of faults within a rack, such as monitoring of input voltage, power, energy (kWh), input current and power factor.
A further upgrade is 'local download' so that new software versions can be uploaded in the field, without needing to physically remove the unit. System managers will also want to know that they can reset the MDU internal control system without interrupting any of the controlled outputs.
Today's MDUs offer much more than simple distribution of power to rack based equipment, and visitors to IBC this year will be able to get hands on with dB's new MDU range at their stand: 10.A28.
This article is also available in the September edition of Broadcast Film & Video. Here.
www.dbbroadcast.co.uk
Top Related Stories
Click here for the latest broadcast news stories.