Broadcast News
06/09/2018
IABM Highlights Key Industry Trends In New Analysis Report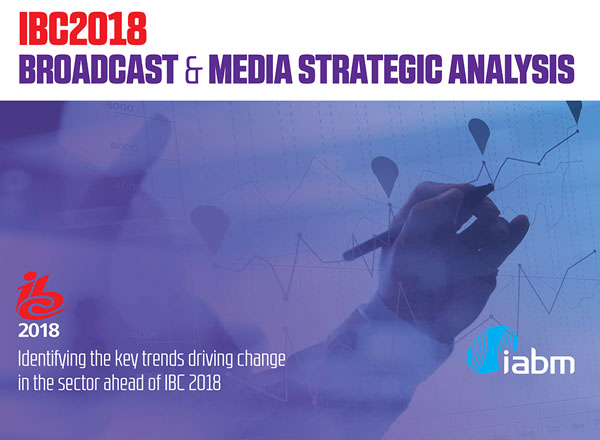 The Business Intelligence Unit of IABM has published a Strategic Industry Analysis report which highlights and analyses the key trends driving change in the broadcast and media industry.
The report will be available in print at IBC 2018 in Amsterdam, at the IABM Executive Keynote Session (7.30am, Friday 14 September, The Forum), as well as to all IBC Conference and Leaders, Cyber Security and Telco & Media Innovation Executive Forums delegates, as well as SVG Sport Production Summit attendees. Copies can also be obtained in the IABM member lounges (8-F54 and on Level 2 in Hall 4) or read online in an interactive presentation
here
.
The report is divided into a number of sections: an overview of the industry; drivers of change; financial indicators; demand- and supply-side trends, with the former moving increasingly to 'build it yourself' solutions; content chain investment trends as the industry increasingly becomes a 'media factory'; and technology adoption trackers that show the current take-up and prospects for AI, cloud, AR, UHD, IP and Blockchain.  
The report concludes that the media industry is undergoing unprecedented change as a result of new entrants, new technology and new consumer expectations. The new media environment shaped by these forces has become highly competitive and traditional media companies are disrupting themselves to adapt. They are going direct-to-consumer, consolidating and demanding different technologies to be more agile and efficient. Media technology suppliers are also having to reinvent themselves in response to this disruption as they strive to keep abreast of the fast-changing media landscape; the future of content supply chains lies in data, automation and optimisation.  
"As the pace of change in our industry continues to accelerate, our members are relying more and more on authoritative, relevant and timely business information. That's why we have strengthened our Business Intelligence Unit with two new analysts," said IABM Head of Insight and Analysis, Lorenzo Zanni. "This Strategic Industry Analysis report gives a taste of the kind of information the team is now producing – carefully researched and keenly analysed to help IABM members keep ahead of the curve and continuing to thrive despite the rapidly changing business environment."
www.theiabm.org
Top Related Stories
Click here for the latest broadcast news stories.