Broadcast News
24/07/2018
Sony Unveils New Virtual Production Service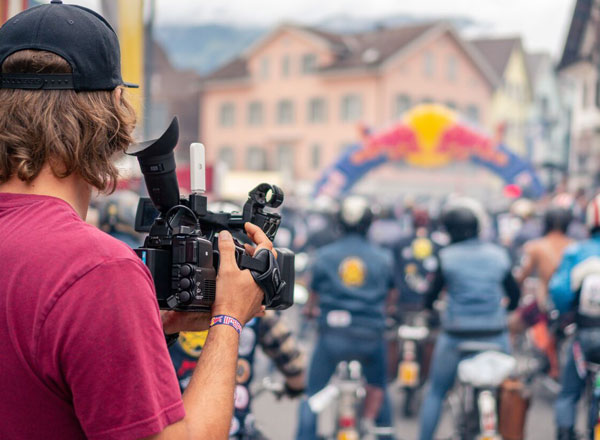 Sony Professional Solutions Europe has unveiled its latest venture into the live production market with brand new service, Sony Virtual Production.
Sony Virtual Production is an on-demand cloud production service that provides a complete production toolset for multi-platform content creation and delivery. It aims to create a frictionless production workflow with access to a cloud based professional vision mixer, and then deliver it quickly to social, websites, apps or CDN platforms.
The service was introduced at Red Bull's Alpenbrevet motorcycle race in Sarnen, Switzerland, last weekend.  
At the one-day event, Red Bull Switzerland used Sony's Virtual Production solution to livestream the entire race to its social media. The remote location of the race placed in Swiss mountains meant that deploying physical production infrastructure posed a significant challenge. However, thanks to Virtual Production's cloud-based services and 4G Connectivity, Red Bull was able to capture and broadcast the whole event using only a number of camcorders and a single laptop to access the Virtual Switcher GUI.  
"Over the years, our Alpenbrevet event has become an important date in the calendars of casual motorcycle racers across Switzerland and Europe. While the scenic route of the race is a big draw for our participants, it poses a significant challenge for our broadcast team who want to capture and livestream the event across the globe," explained Hubert Zaech, Production Manager at Red Bull Switzerland. "Sony's Virtual Production was the perfect solution for our event as it gives us the freedom, flexibility and agility to capture and distribute content quickly, without having to deal with the logistical nightmare of installing physical infrastructure in these remote locations."  
The home-grown service has been designed to take the cost out of live production, whilst allowing content creators to grow their reach and revenues. Requiring only a camera acquisition kit, production teams log into their personalised Virtual Production portal, synchronise their cameras and stream content on a pay-as-you-go basis.  
Camera crews on location then use wireless transmitters to feed a virtual production switcher that is hosted in the cloud via Amazon Web Services, while simultaneously a vision mixer, based anywhere in the world and using an ordinary web browser, logs into the Virtual Production service. Users can switch the camera feeds, add graphics, logos and captions and stream the output to a range of different platforms, including YouTube and Facebook Live, at rapid pace. All without any requirement to run or install software.  
"Sony is fiercely committed to helping its customers like Red Bull reach and build their brands and audiences," said Stuart Almond, Head of Marketing and Communications, Media Solutions, Sony Professional. "In an era of changing viewing habits, multi-screen and multi-platform viewing, media organisations need to embrace new technologies and services that increase content value and engage audiences in new and exciting ways. Virtual Production has been designed to do exactly that. The Red Bull Alpenbrevet was the ideal event to put the new solution through its paces and demonstrate the value it creates for our customers."
Sony's Virtual Production Service will be available in Europe from September 2018.
pro.sony
Top Related Stories
Click here for the latest broadcast news stories.