Broadcast News
12/06/2018
Rohde & Schwarz Introduces New Upstream Analysis Option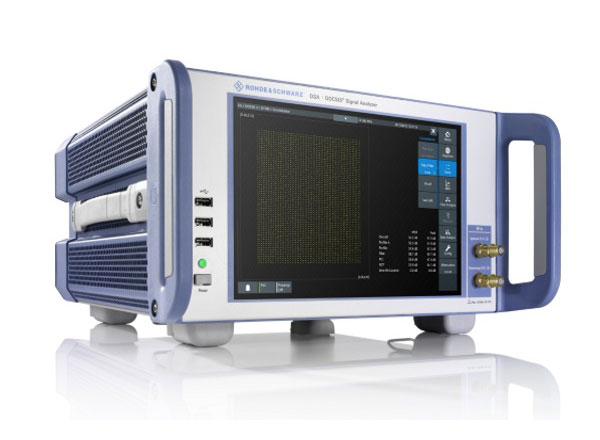 Rohde & Schwarz has unveiled its R&S DSA-K1500 upstream analysis option for cable modem testing.
The new solution will be on show at ANGACOM in Cologne, 12-14 June, at booth R50, hall 8.
Cable network operators can use the compact analyser to check whether their networks and network components meet DOCSIS requirements. With the R&S DSA-K1500 option, the analyser now provides additional functions for analysing DOCSIS 3.0 and DOCSIS 3.1 upstream signals. The R&S DSA together with the R&S SFD DOCSIS signal generator from Rohde & Schwarz forms a compact test system for performing ranging tests on cable modems to provide information about the signal quality in the upstream direction.
Thanks to its low inherent error, it is ideal for measuring the modulation error ratio (MER). It delivers reliable performance for detailed signal analysis. First customers included industrial companies and cable network operators.
The R&S DSA from Rohde & Schwarz is perfect for installing, maintaining and servicing cable modem termination systems (CMTS) at cable headends. It is also ideal for troubleshooting complex headend problems as well as problems with cable network components that occur in the field. The R&S DSA is the only DOCSIS analyser that can be used without restrictions both in the field and at the cable head end. With the new R&S DSA-K1500 option, it can now simultaneously analyse downstream and upstream signals. It achieves MER values greater than 50 dB because demodulation is handled by high-performance FPGAs instead of cable modem chipsets, which are typically designed for lower MER values. With its low inherent error, it offers the best MER performance of all real-time DOCSIS analysers on the market.
To ensure interference-free coexistence of DOCSIS 3.0/3.1 and digital TV channels in cable TV networks, the R&S DSA can optionally analyse J.83/A/B and DVB-C digital TV signals. Here again users will appreciate the advantages of real-time signal processing, such as seamless error analysis, fast result presentation, signal demodulation and output.
The R&S DSA features a large touch display for easy operation. Thanks to the flexible software option concept, the analyser can be adapted to new requirements at any time.
The new R&S DSA-K1500 option for the R&S DSA DOCSIS signal analyser is available now from Rohde & Schwarz.
www.rohde-schwarz.com
Top Related Stories
Click here for the latest broadcast news stories.