Broadcast News
05/06/2018
A Studio System Relocation For UWE Bristol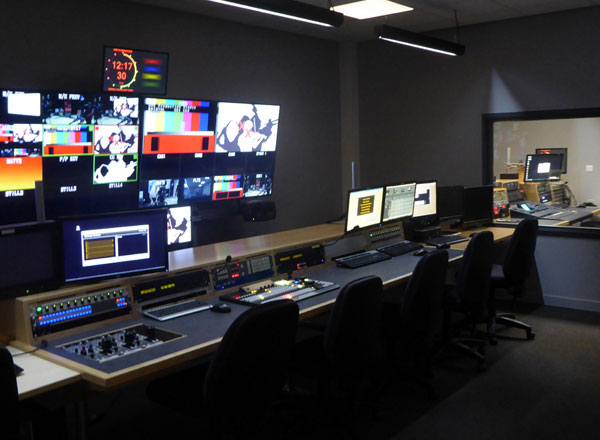 Part of the Danmon Group, ATG Danmon has long been at the forefront of the transition to the file-based technology now used throughout the broadcast media industry. We have also assisted many clients in the construction of IT-based automated file workflow systems, high-definition studios, master control rooms and playout facilities, as well as the upgrade of existing SD systems to HD and UHD.
We were recently invited by the University of the West of England to tender for a major studio facility relocation project at its Bower Ashton Studios, part of UWE Bristol's City Campus. UWE Bristol began as the Merchant Venturers Navigation School in 1595 alongside the University of Bristol and University of Bath, before receiving its university status in 1992.
UWE Bristol City Campus provides courses in the creative and cultural industries, and is made up of Bower Ashton Studios, Arnolfini, Spike Island, and Watershed. The institution is affiliated with the Bristol Old Vic Theatre School and validates its higher education courses. It is only one of four universities in the UK to have a University Enterprise Zone providing space for over 70 businesses, and the UK's largest robotics lab.
A new £9 million creative industries building, designated B1, was being constructed to house broadcast-standard production and post-production facilities for film-making, animation, photography and related studies. UWE Bristol's new studio training resource was designed from the start to match the concept that gaining practical experience is the best form of training. Students gain the full industry-standard facilities needed to work on cutting-edge projects with guidance from excellent tutors.
A key element of the relocation to B1 was the need for flexibility in the project's timing. This is quite a normal requirement in broadcast system integration activity especially in live production environments where upgrades or relocations often have to be performed with minimal disturbance to routine studio and control-room activity. In this case the requirement was to mobilise a team to deconstruct and remove all the technical furniture and studio infrastructure within just nine days before the former building was demolished.
Facilities relocated include a three-camera studio, production control gallery, sound control room, two Avid Pro Tools audio dubbing suites, two Blackmagic Resolve video grading suites and a Foley area. Some additional equipment was also provided by ATG and integrated into the existing system. Extensive cabling was installed through to the main apparatus room and technical support area. All production and technical areas were configured to match the precise working environments students could expect to see when the progressed into the broadcast media industry itself.
The production control gallery is equipped with state-of-the-art multi-screen monitor displays. Situated between the studio and sound control suite, it has line-of-sight windows to the left and right respectively.
Very careful management at every stage of the project was vital as everything had to be completed by the start of the new term. New cabling was largely prefabricated at our Letchworth headquarters to cut down the time needed on site. We created new documentation based on UWE's wiring drawings of the former site.
The system was fully operational within four weeks while the new building was still being constructed. We also took great care to ensure all equipment was fully protected against dust ingress.
The UWE Bristol B1 building open on schedule for use by all students based on the City Campus, including those activity in journalism, fine art, illustration and graphic design studies. It forms part of a development programme that will see £37 million invested in creative industries and around £300 million in UWE Bristol in totality.
My thanks to Dick Allen and his colleagues at UWE Bristol for their co-operation in the preparation of this article.
Author: Russell Peirson-Hagger, Managing Director ATG Danmon
This article is also available in the June edition of Broadcast Film & Video.
www.atgdanmon.co.uk
www.uwe.ac.uk
Top Related Stories
Click here for the latest broadcast news stories.