Broadcast News
05/07/2021
Eastcote Studio Revamped For New PMC Monitoring System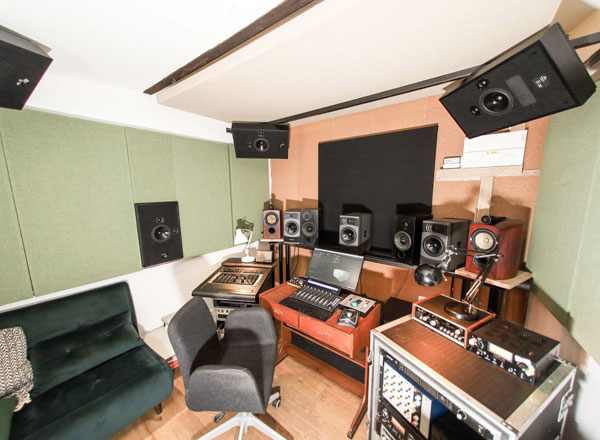 Eastcote's Mastering studio has undergone an extensive makeover to accommodate a range of PMC's professional loudspeakers.
The new Dolby Atmos music mixing room features a monitoring system which incorporates PMC result6 speakers in an LCR formation and PMC Wafer2 monitors for the height and surround channels. The system was supplied by HHB, which also supplied Crown amplifiers, aPro Tools/MTRX Studio audio interface and a MARANTZ Dolby Atmos receiver for reference.
Speaking about why he selected the brand for the project, Dyre Gormsen said: "I chose PMC monitors after visiting the company's Dolby Atmos demo studio in London. I was looking into different monitoring solutions but felt that PMC speakers were the best option for my room.They seemed to be pretty much on the same page as I especially like the clarity of their monitors and the fact that they offer me an extremely precise reference point."
With plenty of past studio experience, Gormsen now serves as Director and Main Engineer at Eastcote Mastering, where he played a crucial role in guiding the studio towards Dolby's Atmos immersive audio mixing format.
"When I first came across Dolby Atmos for music and realised the power of immersive sound on headphones, there was no way back for me," he said. "This format is extremely attractive for the listener, both on headphones and speaker systems."
To accommodate this new way of mixing, Eastcote's mastering studio was upgraded from a normal stereo setup to a 7.1.4 Dolby Atmos system. The whole process took six months to complete, from initial planning to the final two weeks of building and installation.
"We decided to install the Atmos rig in the Mastering Room because it gives me the option to work both mix and mastering rig and the new Dolby rig together for perfect control," Gormsen said. "We worked closely with Dolby to ensure that the room fitted their Atmos specifications and it was a very exciting and eye opening project. Throughout the process, HHB was extremely helpful and offered plenty of advice and expertise on the technology behind Atmos. They were absolutely brilliant. PMC came in quite late during the design process but were extremely efficient and helpful in finding the right combination of speakers for my room. In general this whole project has been an extremely positive experience."
Gormsen added that the collaboration between Dolby, HHB and PMC is working very well and he is happy with the results achieved at Eastcote.
"Embracing the Atmos Music Mixing format has been a pretty steep learning curve but it is extremely exciting to enter this new world of sound," he said.
"I'm really enjoying mixing Dolby Atmos and we have already undertaken a number of projects including Jack Savoretti's new album Europiana, and tracks from new and emerging artists like Henjilla and Sitrekin, which are available on Apple Music. There is a lot of interest and curiosity around Atmos Music and my clients are keen to try it."
Gormsen added that Apple Music's decision to embrace immersive audio is also a great boost.
"It's about time music got an alternative to stereo and over compressed, loud masters," he said. "I do believe there is room for both as it's two different experiences, and I'm hoping Apple's involvement will inspire artists and producers to make great sounds in Atmos and in stereo so that music sounds even better. We are in 2021 and we need better sound than mp3."
pmc-speakers.com
Top Related Stories
Click here for the latest broadcast news stories.