Broadcast News
31/05/2018
MBSi And Chroma-Q Join Forces To Develop LED Wendy Light Alternative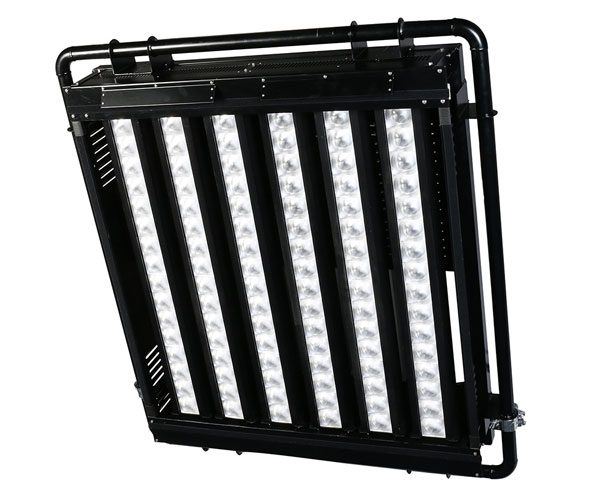 Pinewood MBS Lighting's thinktank MBSi has joined forces with Chroma-Q® to develop a brand new LED alternative to a quarter Wendy light.
Extending the Chroma-Q range of highly effective, energy efficient products, the Brute Force™ has been rigorously tested by PMBS in a variety of 'real world' scenarios to ensure optimal functionality across a variety of applications.
The technical teams at both companies worked closely together to create a true LED full colour RGB-W lamphead that draws just 15 amps at 240V. Robustly designed and fully dimmable, the Brute Force has an extended CCT range between 2,000K and 10,000K. Each unit features 96-way mappable pixel control with RDM, DMX and optional wireless operation. For greater flexibility, the on-board multi-point fixings allows units to be easily combined to form a full Wendy.
Although developed in partnership with MBSi, unlike other proprietary products, the Brute Force is to be made available industry wide through Chroma-Q.
Speaking about the product, Chroma-Q's Global Brand Manager, Paul Pelletier said: "In creating the Brute Force our teams have introduced an incredible new alternative to the traditional Wendy. Having MBSi involved in the project has allowed us to design and build a fixture that has been properly tested and proven to perform prior to launch. I am confident that it will be instantly accepted throughout our industry as a versatile, effective light source."
Talking about MBSi, PMBS Technical Director Steve Howard commented: "MBSi provides us with a central point from where to share creativity, to innovate and introduce new thinking that can enhance the way we support our clients. Through our collaboration with Chroma-Q we are proud to have taken this ethos a step further and are committed to sharing our knowledge in a way that can benefit the industry as a whole. In a creative industry we have to offer more than just power saving in the products we are looking to replace. We are delighted with the ability of the Brute Force to combine its comparable output and spread to a quarter Wendy with the benefits of intelligent, controllable, full colour LED illumination."
http://www.pinewoodmbs.com
Top Related Stories
Click here for the latest broadcast news stories.