Broadcast News
24/05/2018
LipSync Provides Full VFX Work For 'Show Dogs'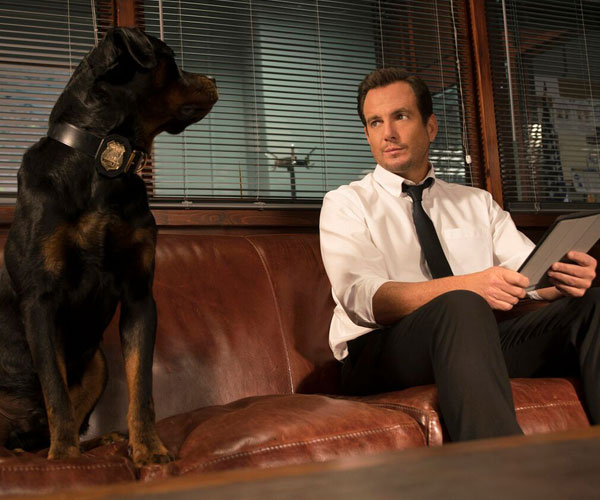 LipSync has provided full VFX work for the upcoming family comedy, 'Show Dogs', which hits UK cinemas tomorrow, Friday 25 May.
Grading and post-production work was also delivered by LipSync.
Show Dogs is directed by Raja Gosnell and written by Max Botkin and Marc Hyman. It tells the story of Rottweiler police dog Max who goes undercover with his partner at a prestigious dog show.
LipSync created the required CG assets and sequences before the shoot began in February 2017 at Pinewood Studios, Cardiff.  
From June 2017, LipSync was tasked with animating 11 fully CG animals - six dogs, a Bengal tiger, a baby panda and three pigeons - alongside 31 different live action talking dogs. The team also created a number of props such as, a plane, dog collars, a tactical police vest, a cage for the panda, ropes and frisbees. LipSync faced complex studio green screen sequences and split screen shots when combining the performance of one dog from one plate with another.  
Mr Gosnell wanted to ensure as much expression from the dog's performance as possible. To achieve this, LipSync VFX focused on animating the muzzle, the eyes and around the eyelids.
Andy Quinn, Digital Compositor at LipSync post said: "In order to make the dogs talk, we started by creating a 3D CG model of each dog which was added by using a process called photogrammetry. This involved taking different photographs of a dog from all angles simultaneously, to create a rough 3D model of the dog's face."
Once LipSync had this accurate model, they "could start animating all of the phonemes for each talking dog," he added. "These basic units of animation could be used to form required words and the 3D head model was animated to match the movement, before adding muzzle and eye animation."  
LipSync primarily modelled and lit the CG elements using Autodesk's Maya, which was supplemented by Pixologic ZBrush for additional sculpting, Foundry's Mari for texturing assets, Ziva Dynamics to simulate muscles and SideFX Houdini to generate fur. All of the CG elements were entirely rendered using Arnold Renderer as multi channel EXR. To combine the CG with the live action, the team used Nuke with Mocha Pro for planar tracking and NeatVideo for denoising plates.
lipsyncpost.co.uk
Top Related Stories
Click here for the latest broadcast news stories.