Broadcast News
16/05/2018
Barix Introduces New Instreamer ICE And Retail Player Solutions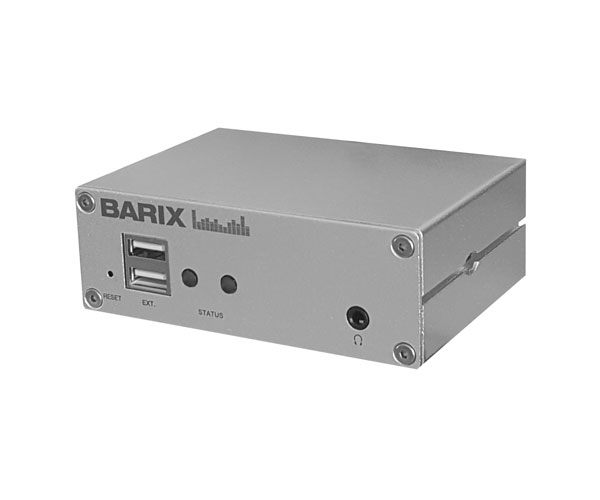 Barix is to demonstrate its expanding family of multi-site audio contribution and streaming solutions at InfoComm 2018, 06-08 June, showcasing the new Instreamer ICE and Retail Player.
The Instreamer ICE combines the bandwidth efficiency of AAC+ encoding with streamlined integration, thanks to a built-in Icecast server that supports up to 50 simultaneous listeners. Ideal for temporary live internet radio services from worship, corporate and other specialty broadcasters, the enhanced compression of AAC+ encoding allows end users to deliver the same audio quality as mp3 at half the bandwidth, or double the audio quality using the same bandwidth.
It is believed to be the first product of its kind to combine an Icecast server with the encoding platform. This removes the need to download and configure an Icecast server on a separate machine, a time-consuming and often complex process, that enables listeners to receive live streams on their connected devices. Instreamer ICE's all-in-one integrated solution instead enables setup times of less than five minutes, allowing users to quickly be up and running with internet radio streams.  
The value proposition of Instreamer ICE is extended when coupled with Barix's Retail Player solution. Receiving its North American debut, Retail Player combines robust hardware receivers with an intuitive, web-based management portal for large-scale retail, hospitality and corporate music applications. Instreamer ICE customers can quickly scale beyond 50 streams with Retail Player, while retaining a cost-effective price point for broader distribution networks.  
The combined solution is ideal for private internet radio networks, as well as for businesses that previously turned to less reliable, consumer-grade players due to budget restrictions. The Instreamer ICE solution ensures that listeners can consume live streams on their mobiles, laptops and connected devices, while Retail Player provides a robust, network-configurable device with automatic playout for business applications.  
"The Instreamer ICE is essentially a compact internet radio-in-a-box solution that feeds the signal direct to a local network or an ISP. On the reception side, customers can use standard networked devices such as mobile phones or computers or, as a professional alternative, the highly efficient and robust Retail Player receivers," said Reto Brader, vice president of sales and marketing, Barix. "These new Barix encoding and decoding solutions allow users to take advantage of AAC+ encoding and native Icecast integration while expanding their networks through a dependable, easy-to-manage and easily-scalable receiver solution, RetailPlayer, that is remarkably affordable."  
Powered by the company's new IPAM400 IP audio module, Retail Player receivers support high-quality decoding of live audio streams, and advanced buffer management in an ultra-compact form factor. The Barix Retail Player Portal adds value through centralized configuration, management, status monitoring and stream switching across multiple locations. The Retail Player portal also simplifies maintenance and upgrades of multiple receivers, including the ability to remotely update the units' firmware as new features and enhancements are released to meet customers' future needs.
www.barix.com
Top Related Stories
Click here for the latest broadcast news stories.